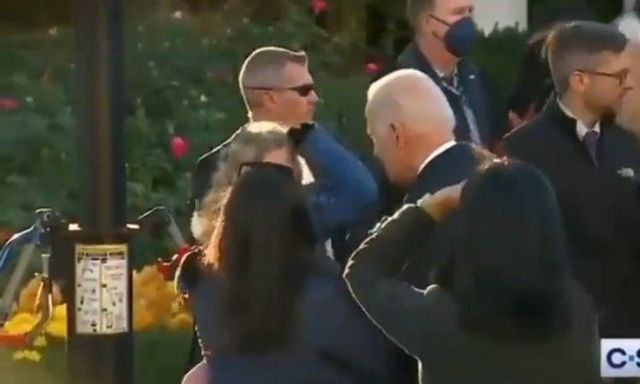 The discussion around Biden's behavior has largely been fueled by a string of accusations by several women that he "inappropriately" touched them. Most notably, back in March last year, the former senator's staffer Tara Reid publicly came forward saying he sexually assaulted her back in 1993.
The claims did not attract much media attention, even though they coincided with the rise of the highly publicized 'MeToo' movement, self-tasked with bringing powerful men to account for sexual misbehavior against women. The organization's largest personalities did not seem to be interested in Reid's case, which led to infighting and accusations of partisanship.
Biden himself denied the allegations, saying that "nothing like this ever, ever happened," and even added that he doesn't remember the woman.
His habit of coming up behind women and smelling their hair and massaging their faces? Just no, Joe. What is it about? Do random women approach men, start smelling them, stroking their cheeks, rubbing their shoulders, or engaging in bizarre forehead-to-forehead frottage? No. You can actually just see it in the videos circulating. Girls freezing up and feeling uncomfortable!
In the last video, a little girl decided to rate block, Biden!
Video below:
And there was this moment from yesterday…
Pres. Biden chats with child during signing of bills aimed at protecting first responders.

"Thank you for being here. You OK? Meet me after this, I can show you around the White House." https://t.co/AxUCcYYzjR pic.twitter.com/I9BFg8m0QJ

— ABC News Politics (@ABCPolitics) November 19, 2021

This is hardly the first time Biden has been accused of being too touchy-feely with people.
Topping the Post's Gallery of Biden's Greatest Hit-ons was the time he grabbed the shoulders of Stephanie Carter from behind and whispered in her ear while her hubby Ash Carter gave his 2015 Secretary of Defense acceptance speech.
He awkwardly groped the waist of The Hill's Amie Parnes at a 2013 holiday party. During a 2012 campaign stop in Ohio he sat so close to a biker chick his forehead touched her temple.
But as always the media decided to ignore Biden's strange behavior and this video will remain unseen by most of Americans because of social media disputes or protection by the MSM
(This post may contain disputed claims. We make no assertions as to the validity of the information presented by our Opinion Columnist. This is an opinion article, and this post should be treated as such. Enjoy.)
---
Social media censorship is suppressing the truth about the dangers of globalism and brutal cultures infiltrating the west. Please share this article wherever you can. It is the only way we can work around their censorship and ensure people receive news about issues that Democrats and the mainstream media suppress.
Scroll down to leave a comment below.
Subscribe to Our Newsletter