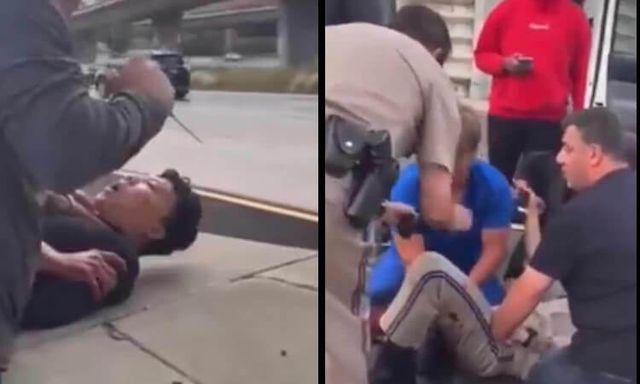 A California Highway Patrol officer was shot Wednesday on a major freeway in San Diego, causing it to shut down, authorities said.
The incident happened around 6:15 p.m. on eastbound Interstate 8, located just under Interstate 805 in the Mission Valley area, Captain Michael Harris of CHP said during a press conference Wednesday evening.
The officer "was investigating a traffic collision when he became involved in a struggle with a pedestrian, resulting in a single gunshot," Harris said.
The male officer, who was not identified, was wounded in his right thigh and is in serious but stable condition at Scripps Mercy Hospital in Hillcrest, the CHP official confirmed. No details were released on how the officer was shot.
Harris said Good Samaritans were able to help subdue a suspect — described as a 25-year-old San Diego man — who is currently in custody and will be booked on appropriate charges "once they are explored and determined."
Video from the heroic act below:
(warning: graphic video)
** (Disclaimer: This video content is intended for educational and informational purposes only) **
The bystanders saved the officer's life. The officer could have bled out, or the assailant could have fired more shots.
Most of the time, police save civilians. But sometimes—ever so rarely—it's the other way around:
---
Social media censorship is suppressing the truth about the dangers of globalism and brutal cultures infiltrating the west. Please share this article wherever you can. It is the only way we can work around their censorship and ensure people receive news about issues that Democrats and the mainstream media suppress.
Scroll down to leave a comment below.
Subscribe to Our Newsletter