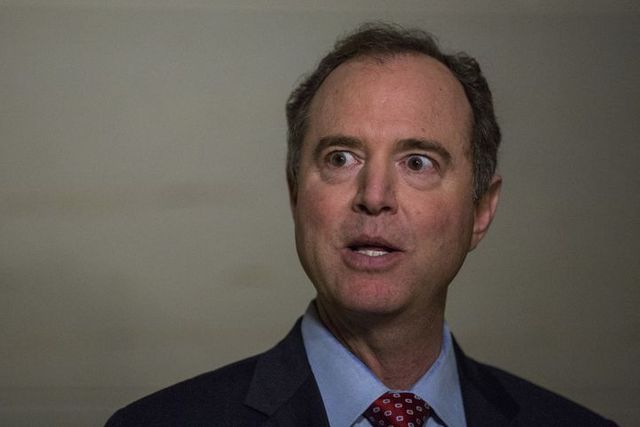 Opinion
Rep. Adam "Shifty" Schiff (D-CA) has lost his mind with Trump derangement syndrome. He intends to impeach President Donald Trump despite the fact that he committed no crime.
He had an interview with Chuck Todd on NBC's Meet the Press on Sunday where he admitted that his political animus against Trump is not about achieving justice. It's about bitterness and rank partisanship, and Schiff doesn't care about ripping the country apart to conduct his little witch hunt against DJT.
"I say the President is doing everything he can to push us into an impeachment because if we can't get adequate answers from the court in time, that in itself will be an impeachable offense," Schiff said while rambling and embarrassing himself on the program.
"We will either get the answers that we need or the president's obstruction will be so complete that that itself becomes a grounds for his impeachment," he added.
However, Schiff admits that the case is too flimsy to sell to the American people. He knows his goose is cooked deep down.
"The jury I'm most worried about, not the Senate because I think that's a preordained conclusion, is the American people. Can we make the case to the American people?" Schiff asked.
Schiff, who was a stuttering stammering mess during the interview, got taken to task by constitutional scholar Mark Levin during his appearance with Sean Hannity on Fox News following Schiff's absurd comments.
"Executive privilege can be asserted for a number of reasons, including protecting the privacy of White House deliberations. That is, a President [and] immediate staff — like Don McGahn, his lawyer," Levin said, shredding the basis for Schiff's rationale for impeaching Trump.
"Congress doesn't function that way, it isn't supposed to," the great one concluded.
---
Social media censorship is suppressing the truth about the dangers of globalism and brutal cultures infiltrating the west. Please share this article wherever you can. It is the only way we can work around their censorship and ensure people receive news about issues that Democrats and the mainstream media suppress.
Scroll down to leave a comment below.
Subscribe to Our Newsletter