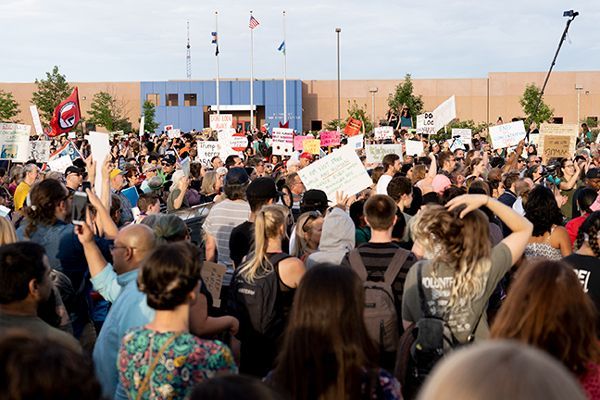 There are many liberals around that are protesting the ongoing ICE raids.
About 2,000 protesters concerned about potential ICE raids this weekend in Denver and the treatment of immigrants at detention camps across the country demonstrated at an Aurora ICE detention facility on Friday.
Leftist anti-ICE protesters are so anti-American and unpatriotic that a group of them removed a U.S. flag and replaced it with a Mexican flag outside an ICE (Immigration and Customs Enforcement) facility in Aurora, Colorado.
Hundreds of protesters also removed a "Blue Lives Matter" flag and vandalized it by spray-painting the words "Abolish ICE" across it before raising the flag upside-down on a pole next to the flag of Mexico.
Watch the video below:
The protest, part of a network of #LightsForLiberty events, also dubbed the "March to Close Concentration Camps," called for detention centers at the U.S.-Mexico border to be closed and for all immigrants being held in those locations to be granted entry to the U.S., according to the event's Facebook page.
Immigration and Customs Enforcement (ICE) agents plan to target thousands of undocumented immigrants in a nationwide operation starting Sunday.
But according to a group of lawyers ICE raids have already started in California, ahead of plans to round up thousands of immigrants across the U.S. this weekend.
Attorneys from the Bay Area of San Francisco have claimed the raids are underway and began in Contra Costa County this past Sunday.
---
Social media censorship is suppressing the truth about the dangers of globalism and brutal cultures infiltrating the west. Please share this article wherever you can. It is the only way we can work around their censorship and ensure people receive news about issues that Democrats and the mainstream media suppress.
Scroll down to leave a comment below.
Subscribe to Our Newsletter