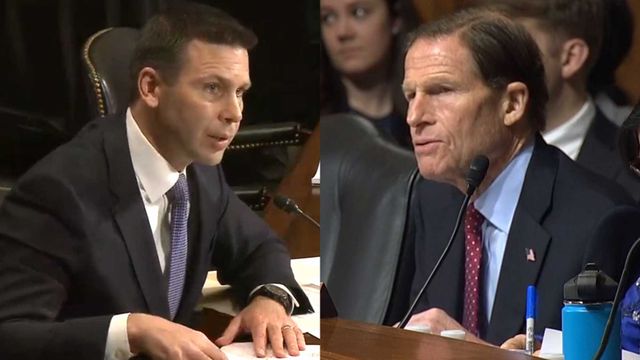 Richard Blumenthal falsely claimed that border crossings are at a historic low during a Senate Judiciary Committee Hearing about human trafficking on the U.S.-Mexico border.
U.S. Customs and Border Protection (CBP) Commissioner Kevin McAleenan corrected Blumenthal and pointed out that the border crossing rate is expected to be close to a historic high for they year.
"Have you ever recommended that your superiors ask for an emergency declaration?" Blumenthal asked during the hearing.
"I've recommended that we ask for more agents more border security barriers and more technology," McAleenan responded.
"That's been a continuing ask," Blumenthal replied. "Nothing about that ask constitutes saying we have a national emergency."
McAleenan responded: "Well, I would offer that I believe it's becoming more urgent as I offered in my opening statement in terms of the numbers of crossings, in terms of the illicit narcotics that are coming in increasingly between ports of entry."
"Well, but illicit narcotics are coming primarily still through the ports of entry, border crossings are still at a historic low compared to other times in our nation's history," Blumenthal claimed.
"No senator, they're not," McAleenan fired back. "We're on pace for over 700,000 crossings this year, that's closer to historic highs than historic lows."
Fox2Now reported:
More than 76,000 people were apprehended crossing illegally or without proper papers in February, the highest number of "encounters" in any February in the last 12 years, according to CBP.
"The system is well beyond capacity and remains at the breaking point," CBP Commissioner Kevin McAleenan told reporters.
Of the 76,000, 7,250 were unaccompanied children and 40,385 were people who came with family members.
The increase in families and unaccompanied children crossing the border marks a significant change in demographics — and a challenge to CBP, as in previous years single adults had largely been a majority of those crossing the border.
Since October, there's been a 300% increase in the number of families apprehended compared with the same period in fiscal year 2018, according to CBP.
"That means we have apprehended and encountered more families in just five months and five days than last year's record total," said McAleenan.
In February alone, 36,174 families and 6,825 unaccompanied children were apprehended, according to agency data.
---
Social media censorship is suppressing the truth about the dangers of globalism and brutal cultures infiltrating the west. Please share this article wherever you can. It is the only way we can work around their censorship and ensure people receive news about issues that Democrats and the mainstream media suppress.
Scroll down to leave a comment below.
Subscribe to Our Newsletter