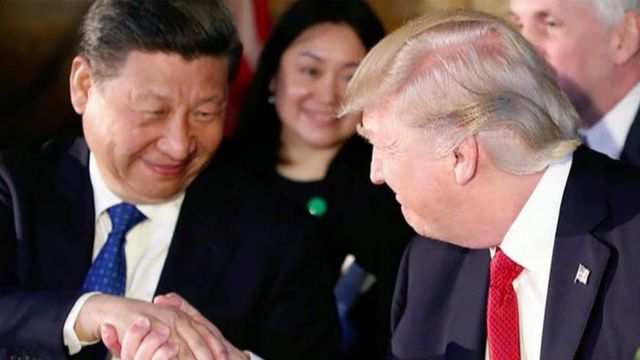 President Trump said Thursday that China should investigate the business dealings of 2020 rival Joe Biden's son, Hunter, as he doubled down on his prior — and controversial — call for Ukraine to do the same.
"China should start an investigation into the Bidens because what happened with China is just about as bad as what happened with Ukraine," Trump said. "I'm sure that President Xi [Jinping] does not like being under that kind of scrutiny where billions of dollars is taken out of his country by a guy that just got kicked out of the Navy."
The reposne from China came as they rejected President Trump's call for Beijing to investigate 2020 presidential candidate Joe Biden and his son, saying it has no desire to impose itself in U.S. domestic affairs. 
"China has long pursued the principle of non-interference in the internal affairs of other countries," foreign ministry spokesman Geng Shuang told the South China Morning Post.
 "We have no intention of intervening in the domestic affairs of the United States. Our position is consistent and clear."
President Trump might have expected a different approach from China but China's officals decided not tor react.
The president's public comments regarding China prompted widespread backlash from Democratic lawmakers. Joe Biden's campaign immediately issued a rebuke of Trump's remarks, saying they represented "a grotesque choice of lies over truth and self over country."
Federal Elections Commission (FEC) Chairwoman Ellen Weintraub also reiterated that "it is illegal for any person to solicit, accept, or receive anything of value from a foreign national in connection with a U.S. election."
---
Social media censorship is suppressing the truth about the dangers of globalism and brutal cultures infiltrating the west. Please share this article wherever you can. It is the only way we can work around their censorship and ensure people receive news about issues that Democrats and the mainstream media suppress.
Scroll down to leave a comment below.
Subscribe to Our Newsletter