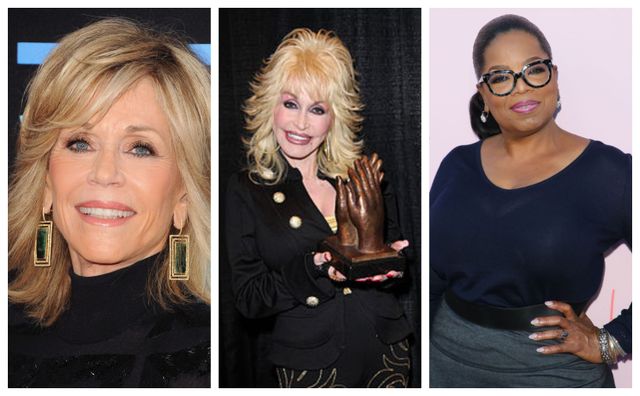 The left and their propaganda machine will never stop but it's good to see that we have a people like Dolly that can stay true to their conservative values!
Dolly Parton is a rare thing in America today. A professional singer and actress who refuses to kowtow to all the Trump-haters. Instead, she just wants to do her job and entertain the American people she loves. Dolly loves America and refuses to take part in anything that tears down and divides our country. We need more celebrities like Dolly Parton. She is a true American patriot who rejects all the anti-American sentiments coming from all those suffering from Trump Derangement Syndrome.
"I'm ashamed of my sister for keeping her mouth shut," said Stella Parton, 69, who grew up with Dolly as one of 12 siblings to illiterate parents in Sevier County, Tennessee. "She can run it when it is about something else, but speak up about injustice, Dolly Parton. Speak up. And speak out. Defend women, and don't just do it in a little song. Speak up."
Stella, an advocate of the #MeToo movement, has spoken out against sexual harassment in the country music industry in the past, saying it's nothing but "a bunch of Southern Baptist hypocrites" who "hide behind their religion," Fox News reported.
Well, Dolly made sure she sent a message to her sister and those Hollywood Trump-hating females who marched while wearing those ridiculous "pussy-hats." Like anything Dolly does, she kills you with kindness, but she does get her point across.
When a leftist reporter asked Dolly if she is a "feminist" and supports the Women's March, the reporter was aghast when Parton "wrinkled her nose" in disgust. "I don't think … I mean, I must be if being a feminist means I'm all for women, yes. But I don't feel I have to march, hold up a sign or label myself," Parton said. "I think the way I have conducted my life and my business and myself speaks for itself. I don't think of it as being feminist. It's not a label I have to put on myself. I'm just all for gals."
Don't you just love how she says, "But I don't feel I have to march, hold up a sign or label myself?" Of course, Dolly is referring to those Trump-haters in the Women's March like Jane Fonda, Madonna, and Ashley Judd. She's Dolly Parton, and she isn't going to "label" herself a rabid feminist to make Oprah Winfrey or anyone in the Hollywood crowd happy.
It's difficult to find a country performer who has moved from her country roots to international fame more successfully than Dolly Parton.
She may be a self-made caricature but Dolly Parton always had the talent to burn – a wonderful singer, brilliant songwriter, inspired businesswoman, accomplished actress and natural comedienne. The fourth of 12 children raised in near-poverty in the Smoky Mountains of East Tennessee.
She also made the headlines for he conservative stance and some people tried to use her to attack President Trump!
---
Social media censorship is suppressing the truth about the dangers of globalism and brutal cultures infiltrating the west. Please share this article wherever you can. It is the only way we can work around their censorship and ensure people receive news about issues that Democrats and the mainstream media suppress.
Scroll down to leave a comment below.
Subscribe to Our Newsletter