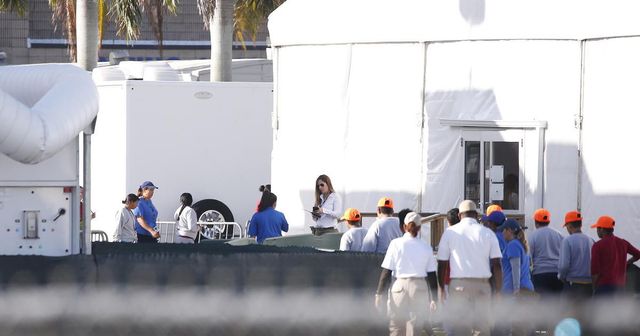 First footage emerges from inside the controversial Florida detention center for migrant children as HHS secretary Alex Azar blasts 'ignorant statements' from the parade of Dem presidential candidates.
There's been a lot of factual misrepresentations or just ignorant statements made about Homestead and frankly, the broader program that we run at HHS,' HHS Secretary Alex Azar (left) said. The Homestead facility has been the site of a stream of visiting Democrat presidential candidates this week, as well as constant protests demanding that it be shut down. Now CBS has been allowed to film inside the facility, which houses about 2,500 migrant children who crossed the border illegally, most of them traveling unaccompanied.
The footage that was filmed destroyed the liberal media narrative.
CBS News got an exclusive look into the controversial migrant facility in Homestead, Florida. Manuel Bojorquez talked with Health and Human Services Secretary Alex Azar about conditions at the migrant shelter. Bojorquez joined CBSN with more on his visit.
Watch the footage below:
Sorry but Trump ain't Obama and even illegals have to be treated in some way.
Sadly the mainstream media forgot about the cages that were built by Obama to keep illegals in it!
At least Trump is addressing this problem the right way, by building the Wall that will put an end to the crisis on the southern border!
---
Social media censorship is suppressing the truth about the dangers of globalism and brutal cultures infiltrating the west. Please share this article wherever you can. It is the only way we can work around their censorship and ensure people receive news about issues that Democrats and the mainstream media suppress.
Scroll down to leave a comment below.
Subscribe to Our Newsletter