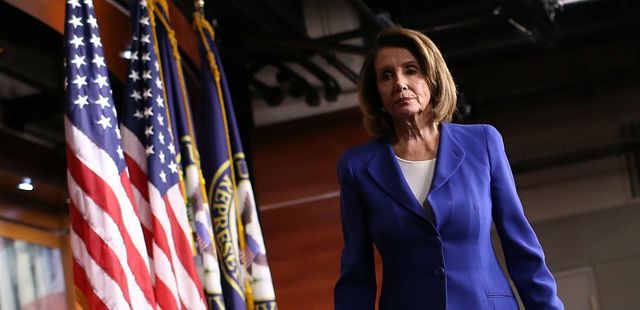 Some Democrats are starting to get tired of House Speaker Nancy Pelosi's vendetta against President Donald Trump as the partial government shutdown drags on.
Her actions are labeled by some liberals as un-Ameican but there are some crazy lefties that label her as a hero of the American people!
The John F. Kennedy Library Foundation clearly is one of these liberal foundations that is trying to show to the American public that the Dems are the real heroes.
House Speaker Nancy Pelosi was named the recipient of this year's Profile in Courage Award by the John F. Kennedy Library Foundation. The award, which has been called the Nobel Prize for public figures, is given for an act, or a lifetime, of political courage.
During a CBS broadcast Sunday, Caroline Kennedy called Pelosi the most important woman in political history.
"She is the first woman to be speaker, she is the first woman to be elected speaker in non-consecutive terms in over 60 years," Kennedy said, "so the courage that that takes, really, I think, makes her an example and an inspiration for a generation of Americans, men, and women."
The award will be presented to Pelosi on May 19 during a ceremony at the John F. Kennedy Presidential Library and Museum in Boston.
I just can't get this one of the most un-American politicians in our country is given this award and labeled as the greatest hero of our time!
---
Social media censorship is suppressing the truth about the dangers of globalism and brutal cultures infiltrating the west. Please share this article wherever you can. It is the only way we can work around their censorship and ensure people receive news about issues that Democrats and the mainstream media suppress.
Scroll down to leave a comment below.
Subscribe to Our Newsletter