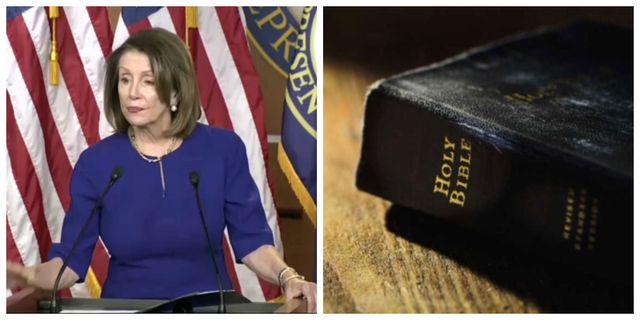 If you read your Bible all of the time, you won't need to tell people that you read your Bible all of the time.
Nancy Pelosi is one case where you can see a woman that doesn't believe in God or read the Bible!
House Speaker Nancy Pelosi shared a Bible verse at the Council for Christian Colleges and Universities conference Wednesday, but according to theology professors, the verse she shared is not in the Bible.
"And I can't find it in the Bible, but I quote it all the time and I keep reading and reading the Bible," Pelosi said. "I know it's there someplace. It's supposed to be in Isaiah. But I heard a bishop say, 'To minister to the needs of God's creation is an act of worship. To ignore those needs is to dishonor the God made us.' It's there somewhere in some words or another, but certainly, the spirit of it is there."
Whitworth University associate professor of the Hebrew Bible/Old Testament Will Kynes said the verse did not exist, according to Slate. The closest version was found in Proverbs 14:31, he said. Greg MaGee, a Taylor University associate professor, also said the verse from Proverbs is the closest to Pelosi's. (RELATED: Students Sue School District Over 'Unconstitutional' Bible Ban)
"Those who oppress the poor insult their Maker, but those who are kind to the needy honor him," was the most approximate version of what Pelosi said, according to Kynes, Slate reported.
WATCH:
This is not the first time Pelosi shared the quote. Pelosi used the phrase in an April, 21, 2018, Earth Day press release.
Nancy Pelosi and the Democratic Party boo GOD, cheer late-term abortion and sponsor Racism and Anti-Semitism. I believe if Nancy actually quoted the Bible, she would burst into flame.
Avoid Internet censorship by subscribing to us directly press the allow button if you haven't done that already!
---
Social media censorship is suppressing the truth about the dangers of globalism and brutal cultures infiltrating the west. Please share this article wherever you can. It is the only way we can work around their censorship and ensure people receive news about issues that Democrats and the mainstream media suppress.
Scroll down to leave a comment below.
Subscribe to Our Newsletter