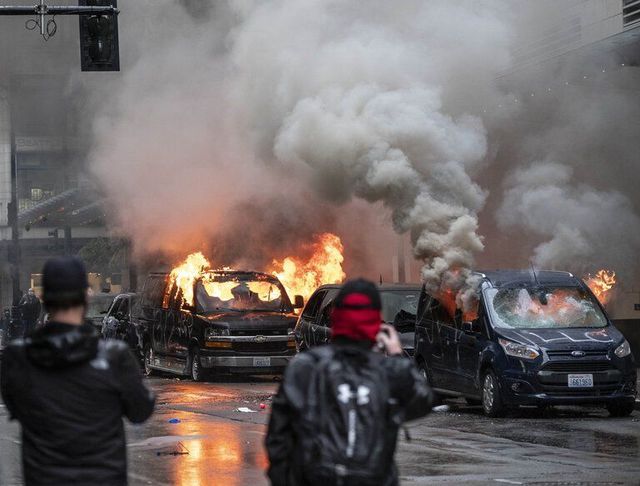 In an effort to bring radical leftist criminals to justice, the Seattle Times and TV stations KIRO 7, KING 5, KOMO 4 and KCPQ 13 were all subpoenaed to turn over unpublished video and photos from a May 30 racial justice protest that turned violent, according to the Seattle Times.
After a morning hearing on Thursday, King County Superior Court Judge Nelson Lee found that the unpublished photos and video were critical for an investigation into the alleged arson of SPD vehicles and theft of police guns.
Judge Lee placed some restriction on subpoena where police may only use the videos and images to identify suspects in the arson and gun theft investigations only. Detectives may not use the photos or video to pursue suspects in vandalism or other lesser crimes—even if police found such evidence.
The judge also restricted the use of media only from professional camera equipment, excluding reporters' mobile phone photos and videos.
After the hearing, Lee ruled the media groups were not protected by Washington shield law, which prevents journalists from having to turn over unpublished materials to authorities in most cases.
The subpoena orders the named media outlets to turn over photos an video during a 90-minute span of the protest.
SPD detective Michael Magan testified at the hearing Thursday morning that the department was at a dead end in its investigations. Police have arrested two suspects stemming from the thefts and arson, and have partially identified others based on other images.
The May 30 protests included a large-scale nonviolent demonstration sparked by the killing of George Floyd by Minneapolis police earlier that week.
During the protests, vandals heavily damaged six police vehicles. They smashed windows, removed ballistic helmets, uniforms, emergency medical equipment and fire extinguishers, and used an accelerant to start fires in five vehicles, according to a police affidavit and other documents.
A loaded Glock 43 semi-automatic pistol and a loaded Colt M4 carbine rifle with a suppressor remain missing, according to the SPD affidavit.
---
Social media censorship is suppressing the truth about the dangers of globalism and brutal cultures infiltrating the west. Please share this article wherever you can. It is the only way we can work around their censorship and ensure people receive news about issues that Democrats and the mainstream media suppress.
Scroll down to leave a comment below.
Subscribe to Our Newsletter