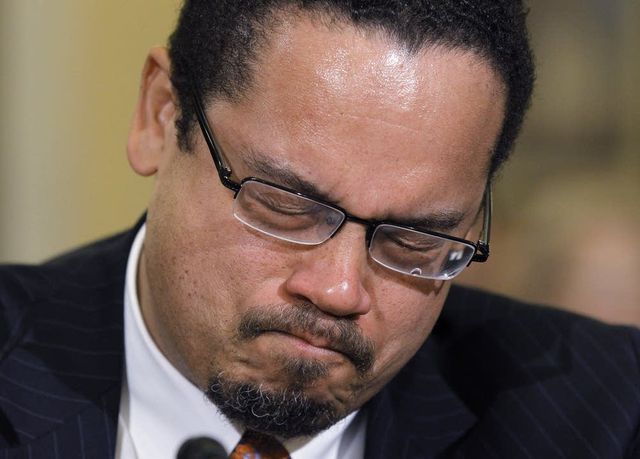 The Minnesota Democratic party is asking Minneapolis police to investigate allegations of domestic abuse against U.S. Rep. Keith Ellison.
Ellison's ex-girlfriend, liberal activist Karen Monahan, accused Ellison of physically and emotionally abusing her during their years-long relationship.
Monahan alleged in August that the Democratic congressman dragged her off a bed by her feet and screamed obscenities at her in 2016.
Monahan's son claims he recently saw the incident on a video his mother recorded, but he declined to be interviewed. Monahan declined to release the video, saying she has shared plenty of evidence, including medical records and a summary from her therapist as well as text messages between her and Ellison.
Ellison has denied the allegations.
Ellison is in a tight race for Minnesota Attorney General with Republican Doug Wardlow. Given Ellison's proximity to the state Democratic party's attorney, Wardlow called the report a "sham."
The Democratic-Farmer-Labor party sought a review by law enforcement, but a prosecutor said Tuesday that he'd review the case only if police investigated first.
The DFL forwarded the case to police Wednesday, saying they want police to determine whether a crime was committed.
Ellison has other controversies which plague him.
According to Newsweek:
Nation of Islam
In the 1990s Ellison was a member of the Nation of Islam, an anti-Semitic, anti-LGBTQ and racist group. Ellison penned a number of opinion pieces defending Nation of Islam leader Louis Farrakhan and marched with him. In 2006, during his run for Congress, Ellison tried to claim that he was never involved with the group, but later amended his statements and denounced the group. "I wrongly dismissed concerns that they [Farrakhan's remarks] were anti-Semitic. They were and are anti-Semitic and I should have come to that conclusion earlier than I did," he wrote in a letter. "But at no time did I ever share their hateful views or repeat or approve of their hateful statements directed at Jews, gays or any other group."
Still, Jewish progressives in Minnesota endorsed Ellison, and he won his seat in Congress.
Campaign Finance Problems 
During the 2006 election, Ellison successfully made it through a number of campaign finance issues. He was sued twice by the attorney general of Minnesota for late campaign filings and unreported or misreported contributions.
An Inside Job
Once in office, Ellison courted controversy when he compared the George W. Bush administration to the Nazi party, all while insinuating that 9/11 might have been an inside job. While addressing a group of atheists in his home, he compared the attacks on U.S. soil to the Reichstag fire of 1930s Germany. "After the Reichstag was burned, they blamed the Communists for it, and it put the leader [Hitler] of that country in a position where he could basically have authority to do whatever he wanted," he said. He told the crowd that he wouldn't go as far as to openly blame Bush for 9/11 because, "you know, that's how they put you in the nut-ball box—dismiss you."
Ellison later apologized for his comments and said that he did not believe that President George W. Bush was in any way responsible for the attacks.
Ellison also has a history of unpaid traffic tickets. In 2006 he admitted to having his drivers license suspended multiple times because of unpaid traffic tickets. At the time, he allowed his then-wife, Kim Ellison to take the blame for not paying the tickets. They divorced in 2010.
Scroll down to leave a comment below.
---
Social media censorship is suppressing the truth about the dangers of globalism and brutal cultures infiltrating the west. Please share this article wherever you can. It is the only way we can work around their censorship and ensure people receive news about issues that Democrats and the mainstream media suppress.
Scroll down to leave a comment below.
Subscribe to Our Newsletter