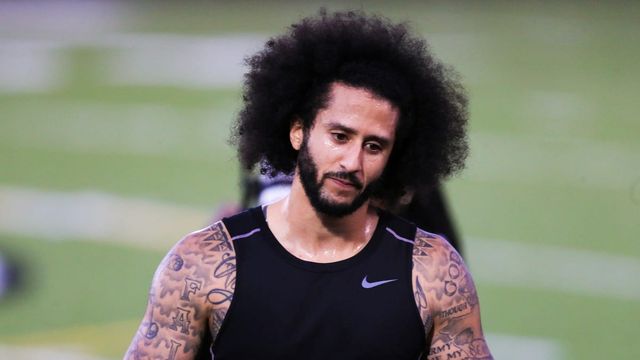 The NFL extended an olive branch to former San Francisco 49ers quarterback Colin Kaepernick in November at the Atlanta Falcons training facility. At the last minute, Kaepernick made a last-minute venue change, and the league responded that he was a no-show.
Kaepernick made the venue change in response to the media not being allowed at the facility the NFL reserved.
The NFL said 25 clubs were present and all 32 teams would have received video footage of the event.
"We are disappointed that Colin did not appear for his workout," the league said in a statement. "Today's session was designed to give Colin what he has consistently said he wants, an opportunity to show his football readiness and desire to return to the NFL."
Reuters reported:
FL Commissioner Roger Goodell said on Wednesday that the league had "moved on" from last month's long-awaited workout with Colin Kaepernick, three years after the former 49ers quarterback kneeled during the pre-game national anthem in protest of racial injustice.

The protests drew the ire of U.S. President Donald Trump and Kaepernick said teams would not sign him because of his activism. He eventually settled a collusion grievance case with the National Football League in February.

The NFL announced the special workout with just a few days' notice, and the 32-year-old quarterback moved the tryout from the Atlanta Falcons facility to a high school after learning the media would not be permitted to attend otherwise.

"This was about creating an opportunity," Goodell told reporters on Wednesday, at a league meeting. "We created that opportunity. It was a unique opportunity, a credible opportunity and he chose not to take it. I understand that.

"We've moved on."

[…]
---
Social media censorship is suppressing the truth about the dangers of globalism and brutal cultures infiltrating the west. Please share this article wherever you can. It is the only way we can work around their censorship and ensure people receive news about issues that Democrats and the mainstream media suppress.
Scroll down to leave a comment below.
Subscribe to Our Newsletter