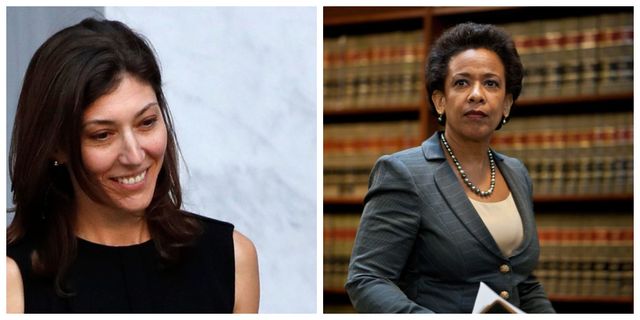 Former FBI attorney Lisa Page said in congressional testimony that she and her colleagues disagreed with the decision to allow the aides of former Secretary of State Hillary Clinton to attend her FBI interview.
Bur former Attorney General Loretta Lynch who may feel the sting from this interview after the latest revelations.
Lisa Page's congressional testimony reveals that the FBI was considering charging Hillary Clinton under the Espionage Act for "gross negligence" — until the DOJ flat-out told them "No.
According to Page's testimony, which was made public on Tuesday, the FBI considered charging former Secretary of State Hillary Clinton with gross negligence under 18 U.S. Code § 793 for her alleged handling of classified information.
"We had multiple conversations with the Justice Department about bringing a gross negligence charge," Page told Republican Texas Rep. John Ratcliffe. "And that's, as I said, the advice that we got from the Department was that they did not think — that it was constitutionally vague and not sustainable."
Ratcliffe responded, "When you say advice you got from the Department, you're making it sound like it was the Department that told you: 'You're not going to charge gross negligence because we're the prosecutors and we're telling you we're not going to.'"
"That's correct," Page answered.
But one old video reveals that AG Lynch lied:
Lynch: "I fully expect to accept" the DOJ and FBI recommendations on the Clinton email probe https://t.co/8I58ZMGkGD https://t.co/A1DeQqJ6cB

— CNN Politics (@CNNPolitics) July 1, 2016
If I remember correctly, Hillary said herself that if she goes down, she's taking half of D.C. with her! Kinda sounds to me that one statement alone proves her guilt, how would she know which ones to take down unless she knows who was in it with her
---
Social media censorship is suppressing the truth about the dangers of globalism and brutal cultures infiltrating the west. Please share this article wherever you can. It is the only way we can work around their censorship and ensure people receive news about issues that Democrats and the mainstream media suppress.
Scroll down to leave a comment below.
Subscribe to Our Newsletter