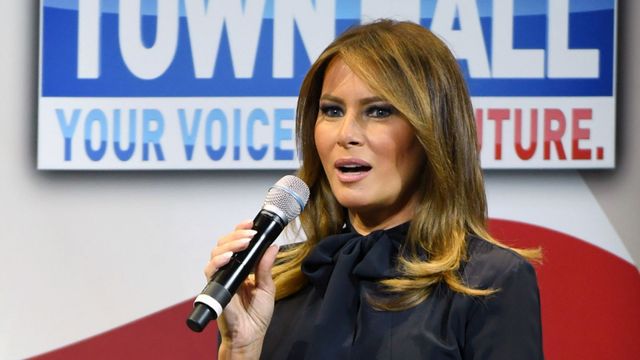 It's encouraging that the message about how awesome Melania is has gotten out. Hopefully, she'll rise much more in future polls, to where she belongs.
The Economist and YouGov have conducted a poll on the first family, and the results make it clear who the most popular Trump family member is. In the survey, released Friday, Melania Trump had a higher favorability rating than any of the other Trumps.
In the poll, conducted between March 3 and 5, 51 percent of respondents said they had either a very favorable or somewhat favorable opinion of the first lady. Tied for the next most popular were Ivanka Trump and Donald Trump, each of whom was viewed favorably by 44 percent of respondents. Rounding out the pack was Donald Trump Jr. at 36 percent favorability, his younger brother Eric Trump at 32, and finally, Jared Kushner, who is viewed favorably by a mere 27 percent of Americans, according to the poll.
A FLOTUS we can and should be proud of. Melania's beauty is indisputable. She holds her head up high and doesn't take the bait! As time has passed our First Lady has become more comfortable in her role.
She has come out as a gracious, warm, family orientated intelligent woman. She exudes a genuine warmth and compassion, especially when she's around children. Her class and style are unsurpassed.
My personal opinion is that the First Lady ranks higher than anyone else I can relate to….and to be truthful there are strong, capable, intelligent women on the Trump team, all of whom can set a good example for the younger generation.
---
Social media censorship is suppressing the truth about the dangers of globalism and brutal cultures infiltrating the west. Please share this article wherever you can. It is the only way we can work around their censorship and ensure people receive news about issues that Democrats and the mainstream media suppress.
Scroll down to leave a comment below.
Subscribe to Our Newsletter