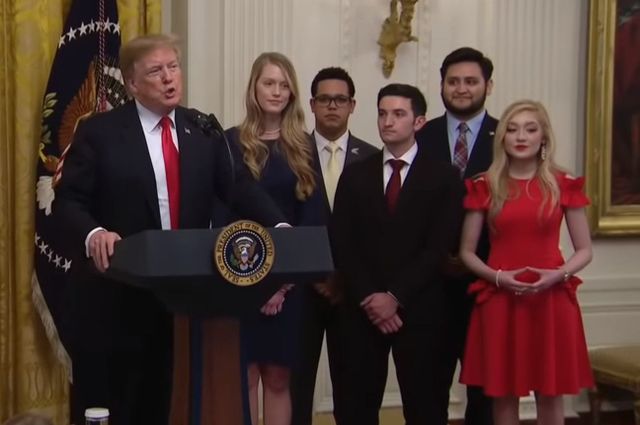 Kudos to President Trump for taking action against radical leftist colleges who want to suppress student's rights. Our educational system has always stood for civil rights, but something happened and they turned into bastions of fascism.
President Donald Trump signed an executive order on Thursday requiring colleges to fully comply with the First Amendment's protection of free speech or incur the loss of federal funding.
The executive order declares that twelve federal grant agencies and the Office of Management and Budget are to insure that any colleges receiving research or education grants are upholding the freedom of speech and freedom of inquiry. This effects over $35 billion in federal grants.
Fox News reported:
"We're here to take historic action to defend American students and American values," Trump said, surrounded by conservative student activists at the signing ceremony. "They've been under siege."
"Under the guise of speech codes, safe spaces and trigger warnings, these universities have tried to restrict free thought, impose total conformity and shut down the voices of great young Americans like those here today," he said.
A senior administration official said the order directs 12 grant-making agencies to use their authority in coordination with the White House Office of Management and Budget (OMB) to ensure institutions that receive federal research or education grants promote free speech and free inquiry. White House officials have said it will apply to more than $35 billion in grants.
Public universities seeking funding would have to certify they comply with the First Amendment, which already applies to them. Private universities, which have more flexibility in limiting speech, would need to commit to their own institutional rules.
"Even as universities have received billions and billions of dollars from taxpayers, many have become increasingly hostile to free speech and the First Amendment," Trump said.
Watch the video:
---
Social media censorship is suppressing the truth about the dangers of globalism and brutal cultures infiltrating the west. Please share this article wherever you can. It is the only way we can work around their censorship and ensure people receive news about issues that Democrats and the mainstream media suppress.
Scroll down to leave a comment below.
Subscribe to Our Newsletter