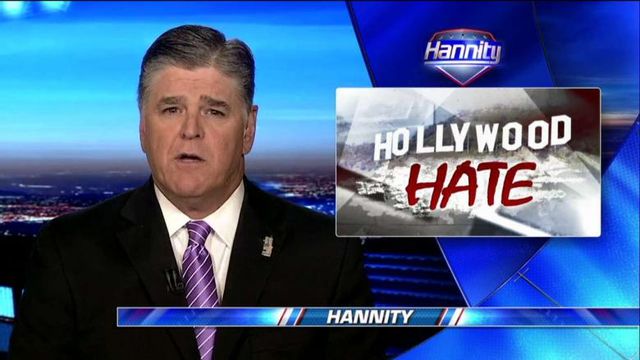 Rosie O'Donnell has made a habit of making outrageous statements about things she doesn't really understand. That's why conservatives were applauding this week when a video surfaced in which Sean Hannity said that comedian Rosie O'Donnell has joined the long list of Hollywood celebrities who fantasize about the president's death.
Sean Hannity attacked Rosie O'Donnell for sharing an online game where users can "Push Trump Off A Cliff Again."
In a post on Hannity's website, the outspokenly anti-Trump actress was called a "rabid-leftist," and the fact that she shared the game was called "gross." Hannity has been a vocal supporter of President Trump since the presidential campaign.
O'Donnell shared a link to a website that allows users to use their computer's space bar or shift key to move Trump off a cliff, prompting Hannity to respond.
He also recounted several other incidents involving O'Donnell's fellow actors wishing harm or failure on Trump.
Hannity said Mickey Rourke threatened to beat Trump with a bad, while rapper Snoop Dogg staged a mock execution of a Trump-like figure for a music video.
Hannity exposed all of celebrities who have blatantly called for violence against President Trump. Johnny Depp, Madonna, and now Rosie have explicitly spread their fantasies on how they would Assassinate President Trump.
More importantly, Hannity pointed out how Rep. Steve Scalise is still fighting for his life in the hospital after being GUNNED DOWN by a violent liberal. He said it's people like ROSIE and her Hollywood friends who "normalize" this kind of violence. WATCH the video then SHARE on Facebook so we can make it go viral!
I sincerely believe that she is a disturbed person. Only her wealth prevents her from being committed.
Do you think Rosie is a terrible person? – COMMENT "Yes" or "No" then Share this all over Facebook.
Scroll down to leave a comment below!
---
Social media censorship is suppressing the truth about the dangers of globalism and brutal cultures infiltrating the west. Please share this article wherever you can. It is the only way we can work around their censorship and ensure people receive news about issues that Democrats and the mainstream media suppress.
Scroll down to leave a comment below.
Subscribe to Our Newsletter