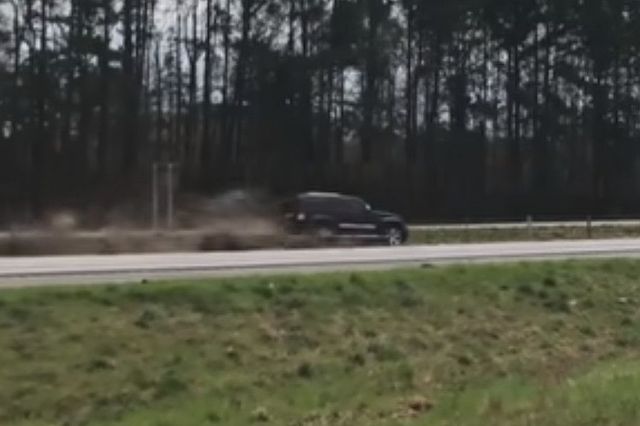 An out-of-control vehicle crashed Friday into a freeway divider just a few yards from the presidential motorcade in Opelika, Alabama. Several witnesses recorded the incident.
In the video below, the sound of tires screeching and crashes are heard as the President's motorcade comes into view. The SUV is then seen plowing through the protective cables until it comes to a halt.
One witnesses are heard saying, "Oh my God — right at the President? Are you kidding me? Did y'all see that? Holy smokes!"
Another witnesses points out, "That's why you block the other Interstate."
The presidential motorcade did not stop or slow during the incident.
The Alabama Highway Patrol said the Opelika Police Department is investigating the incident. It is unknown at this time whether this was an accident or if the diver was intentionally trying to cross the median.
Watch the video:
WSFA 12 News reported:
An interstate guardrail kept a vehicle from slamming head-on into President Donald Trump's motorcade Friday morning.
Residents hoping to get a glimpse of the vehicles passing by on Interstate 85 just inside the Opelika city limits got much more than they expected.
A WSFA 12 News viewer first trained his camera on the roadway, capturing video of an advance group of 10 motorcycle officers a short distance ahead of the president. As the presidential vehicles begin to come into focus, the sound of squealing tires turns the otherwise quiet event into a load spectacle.
Just as the motorcade travels through the video at high speeds, passing by in one direction, an out of control passenger vehicle comes into view. The vehicle, traveling in the opposite direction as the president, left the roadway and almost entered the median.
However, protective guardrail installed along the road's edge did exactly what it was designed to do, grabbing the vehicle and pulling it back into its own lanes before it could cross into oncoming traffic.
[…]
---
Social media censorship is suppressing the truth about the dangers of globalism and brutal cultures infiltrating the west. Please share this article wherever you can. It is the only way we can work around their censorship and ensure people receive news about issues that Democrats and the mainstream media suppress.
Scroll down to leave a comment below.
Subscribe to Our Newsletter