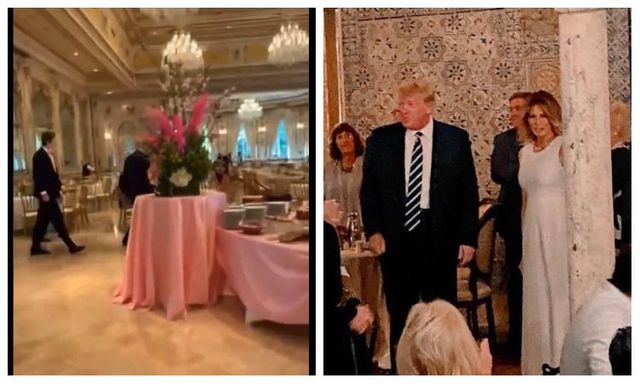 Donors to the Republican National Committee gathered this weekend for the first time since Donald Trump's defeat just down the road from his Mar-a-Lago home — a sign that the institutions of the party remain centered around the former president.
The bulk of the RNC's spring retreat took place a 10-minute drive south of Trump's club, at Palm Beach's Four Seasons resort. There, around 360 donors mingled poolside at the beachfront hotel with Republican officials, including chairwoman Ronna McDaniel and co-chair Tommy Hicks. But on Saturday night, guests were shuttled up the road to Mar-a-Lago, where Trump addressed the retreat behind closed doors.
Yesterday the former president pledged his commitment to the Republican Party to help it win majorities in the House and Senate in 2022.
"And then, in 2024, a Republican candidate is going to win the White House," Trump said.
Trump as expected hit on a populist message to align the party with its grassroots and against what he terms "Beltway elites." He also went hard after Joe Biden.
"With an agenda this unpopular, it is no wonder that Joe Biden is the first new president in modern times not to address a joint session of Congress within his first few weeks," Trump said.
Former President Donald Trump allegedly lashed out at Senate Minority Leader Mitch McConnell, denouncing the Kentucky Republican as a "dumb son of a b***h" for not defending his election challenges. We have to take this news about the GOP leader with a little consideration as the news was first reported from Washington Post
"If that were Schumer instead of this dumb son of a b***h Mitch McConnell they would never allow it to happen. They would have fought it," Trump said according to the Post.
When Trump's entered the room everyone was ecstatic but Barron was the one who took all the glory.
When Barron entered the room everyone was expecting a kid and they saw a giant as the "kid" looks like 6'8″ tall considering that Donald is 6'3″.
It was a close-door event but we have exclusive videos from Barron and Donald Trump.
Video below:
As well as Melania Donald Trump's video.
Video below:
As we reported last month Barron Trump turned 15. Son of President Donald Trump and Melania Trump, the teenager has spent the past few years growing up in front of the nation's eyes — literally. He now towers over his 6-foot-3 father and 5-foot-11 mother.
Since Barron was just an infant, he's been subjected to a life in the spotlight. Now that Donald Trump is no longer president, though, the teen has been able to avoid the public eye much more than in the previous four years of his life. Before that, though, we were able to see just how much he's grown into a young man, who's even taller than his famous father, at quite a fast rate.
Images below: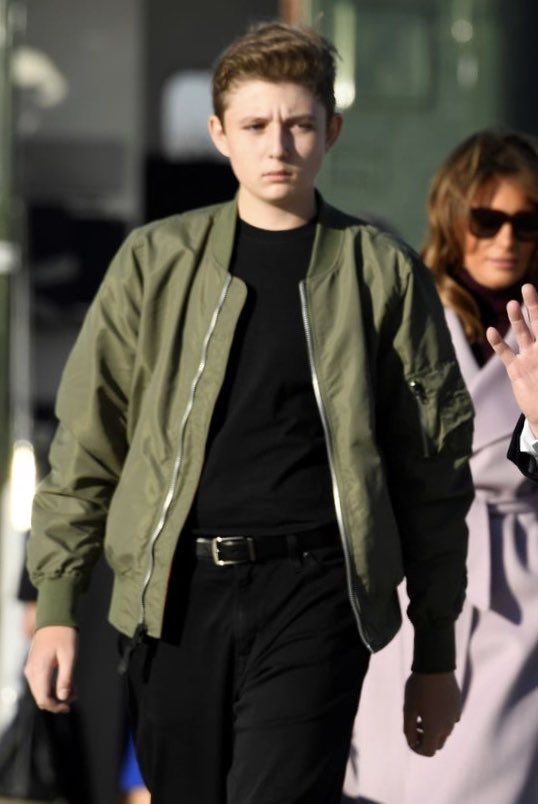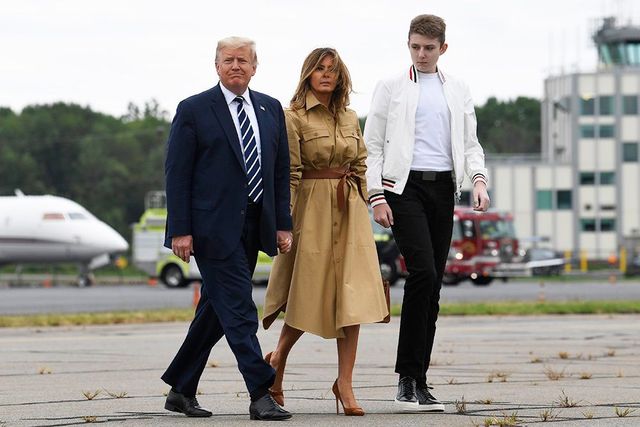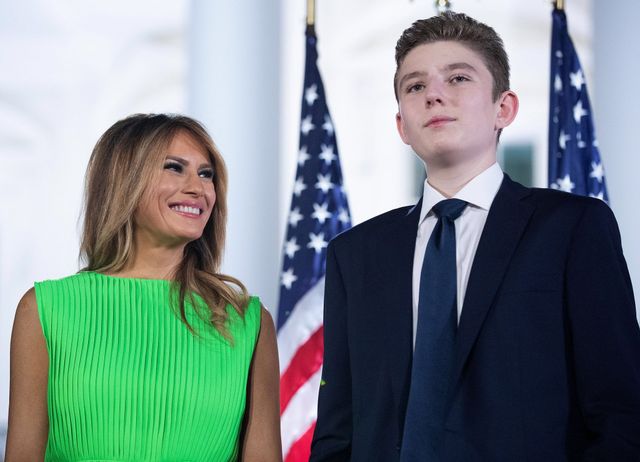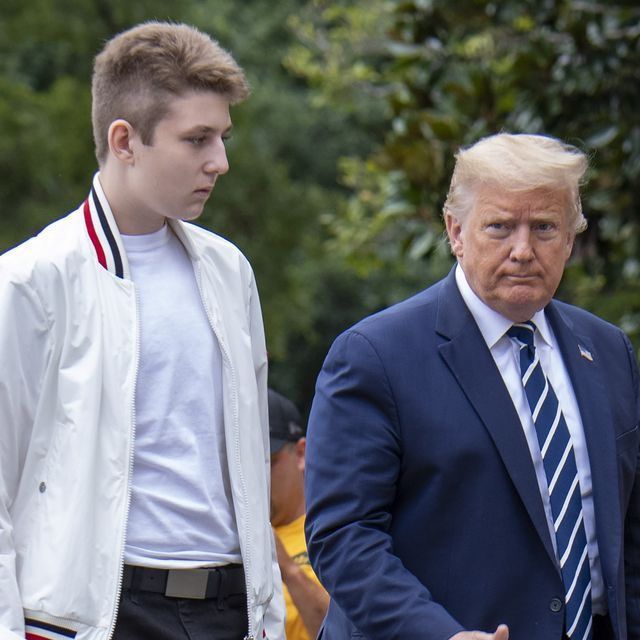 Here is Melania's birthday wish on Twitter:
Happy birthday BWT ❤️❤️❤️ pic.twitter.com/8AVZEhLeMg

— MELANIA TRUMP (@MELANIATRUMP) March 20, 2021
Barron was born in Manhattan, and unlike his siblings from his dad's prior marriages, he managed to live a somewhat private life. Of course, that all changed in 2015 when Donald announced that he would be running for president. When Donald won the presidency over Hillary Clinton in 2016.
In the years since, Barron has had an incredible growth spurt. He's now taller than his 6'3″ dad, as we've seen in photos of him walking across the South Lawn of the White House with his parents. Barron has also become more stylish — he rocked a pompadour haircut: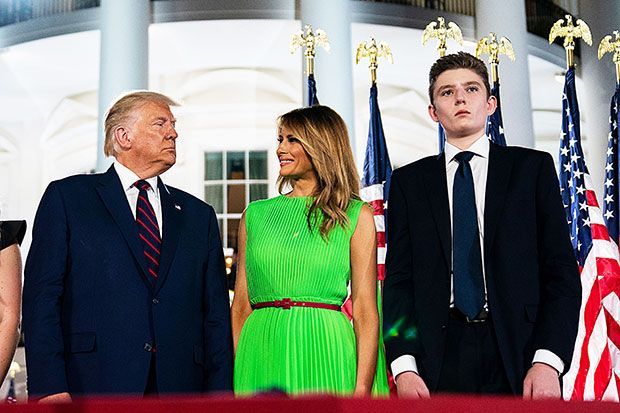 The internet couldn't' stop and many alleged that he is about to be drafted to Utah Jazz:
Barron Trump is 15 and already 6'6, dude about to get drafted by the Jazz lmao pic.twitter.com/5MlBDyFNAr

— P.B. Gomez 🏴🚩 (@MestizoLeftist) March 20, 2021
Another said that he is now a starting center at Arkansas:
Remember Barron Trump? Now he's the starting center on Arkansas. Feel old yet? pic.twitter.com/UorgQX2GrE

— Zachary Eaton (@Zach_Eaton_) March 19, 2021
It seems he has a future in the NBA:
Future NBA All-Pro Barron Trump

— ᴛʀᴀɴǫ ᴛʀᴀɴǫ ᴛʀᴀɴǫ (@TranquilBlueMN) March 20, 2021
Happy birthday and many all-star games in the future!
---
Social media censorship is suppressing the truth about the dangers of globalism and brutal cultures infiltrating the west. Please share this article wherever you can. It is the only way we can work around their censorship and ensure people receive news about issues that Democrats and the mainstream media suppress.
Scroll down to leave a comment below.
Subscribe to Our Newsletter