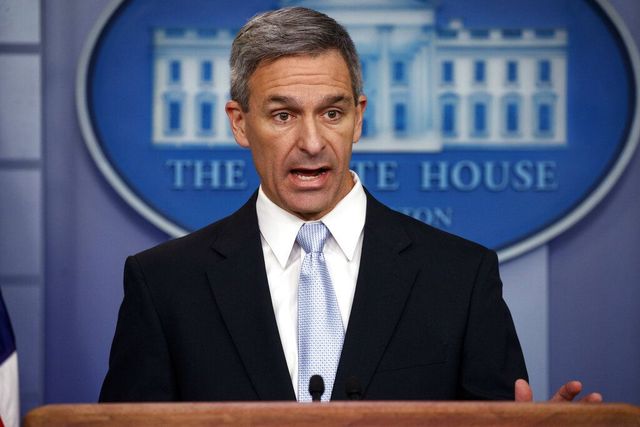 The Trump administration has introduced a new immigration rule, which could reduce the number of legal immigrants allowed to stay in the country. On Monday, acting Director of Citizenship and Immigration Services Ken Cuccinelli announced the final rule, which makes it easier for green cards and visa applications to be rejected.
The U.S. Department of Homeland Security has changed the scope of the so-called public charge rule to now "incorporate consideration of more kinds of public benefits received," according to a news release from U.S. Citizenship and Immigration Services. The rule includes individuals "who receives one or more designated public benefits for more than 12 months, in the aggregate, within any 36-month period (such that, for instance, receipt of two benefits in one month counts as two months)," the release said.
Under the finalized rule, any individual immigrant who applies to live in the U.S. on a more permanent standing — which typically means a green card application — the applicant's history of public benefits uses will be taken into account. Such programs being considered are food stamps, Section 8 and other housing benefits, Medicaid, cash assistance and other programs.
The rule expands the range of disqualifying programs to include receiving welfare benefits, food stamps, and public housing. Cuccinelli said this is necessary to make legal immigrants "self-sufficient and not reliant on the government to meet their needs."
"Throughout our history, self-reliance has been a core principle in America," he stated. "The virtues of perseverance, hard work, self-sufficiency, laid the foundation of our nation and have defined generations of immigrants seeking opportunity in the United States".
The rule will take effect on October 15th with exemptions for refugees and asylum seekers.
Do you support this new rule?
---
Social media censorship is suppressing the truth about the dangers of globalism and brutal cultures infiltrating the west. Please share this article wherever you can. It is the only way we can work around their censorship and ensure people receive news about issues that Democrats and the mainstream media suppress.
Scroll down to leave a comment below.
Subscribe to Our Newsletter