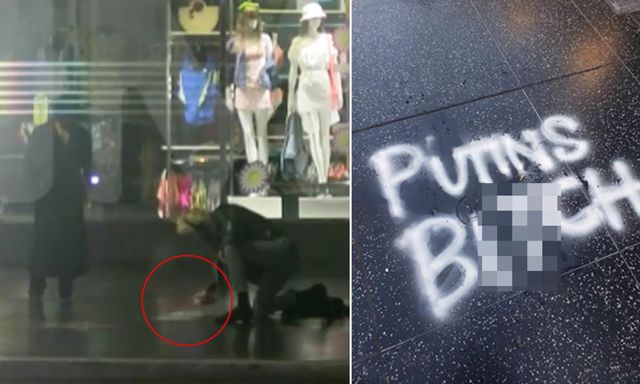 We constantly see so-called Hollywood liberals trying to blame Trump for anything and everything. Everything is Trump's fault!
Hollywood and Hollywood's celebrities have lost their glamour. As time passes by I am more certain that these Hollywood "celebrities" are nothing more than a bunch of overpaid loudmouths who have nothing intelligent to say but throwing constant attacks on conservatives.
The last attack on Trump came on his Hollywood walk of fame star, and it's no wonder after all the trash talk the Hollywood celebrities are spreading about our President!
The star was spray-painted with the words "Putin's Bitch."
TMZ shared footage from 4:30 a.m. of vandals appearing to cover the star with black paint and writing the reference to Russian President Vladimir Putin in white.
The Hollywood Chamber of Commerce said that a cleaning crew was sent out by the Hollywood Property Owners Alliance to remove the paint at no cost shortly after it was discovered.
The Hollywood Historic Trust, which maintains and repairs stars on the Hollywood Walk of Fame, filed a police report.
Watch the video below:
https://www.youtube.com/watch?v=uNHveGJAe4g
The star has been completely destroyed and replaced twice, including with a pickaxe in July.
We need to spread this so that more people can see these idiots that vandalized the star!
This is just embarrassing I think we should build a statue on the place where these idiots vandalized the star!
Share if you agree with me!
---
Social media censorship is suppressing the truth about the dangers of globalism and brutal cultures infiltrating the west. Please share this article wherever you can. It is the only way we can work around their censorship and ensure people receive news about issues that Democrats and the mainstream media suppress.
Scroll down to leave a comment below.
Subscribe to Our Newsletter