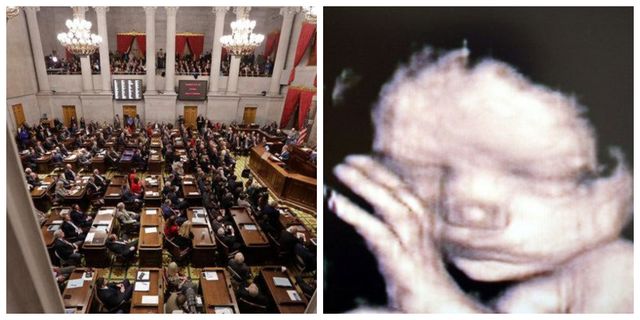 A fetal heartbeat bill is a form of proposed abortion legislation in the United States of America which makes abortions illegal as soon as the fetus' heartbeat can be detected, based on the conclusion that a human heartbeat is enough to indicate a person. Fetal heartbeats can be detected at about six to seven weeks into the pregmancy!
Mississippi, Florida, Kentucky, Ohio and South Carolina considered this bill and now they are joined by Georgia and Tennessee.
Dailymail.co.uk reports Opponents of so-called 'heartbeat legislation' argue it flies in the face of Roe v Wade, the landmark Supreme Court decision legalizing abortion, which many pro-life advocates hope will be overturned at the hands of the two new Justices.
Georgia and Tennessee join other states, including Mississippi, Florida, Kentucky, Ohio and South Carolina, that are also considering this type of legislation.
The bills will next head to each state's respective Senate. If they pass, the states' governors will have to sign them into law, as Georgia Governor Brian Kemp has said he intends to do.
During a tense debate in Atlanta, Georgia, on Thursday, several Democratic lawmakers opposed to the bill turned their backs to its author, Republican Representative Ed Setzler.
Earlier in the day, some Democratic lawmakers brought in wire coat hangers in reference to unsafe home abortions.
Setzler said his bill 'seeks to recognize that the child in the womb, that is living distinct from their mother, has a right to life that is worthy of legal protection.'
The Tennessee House passed similar legislation earlier Thursday after its Republican supermajority forced an end to debate without letting some Democrats speak.
If the measures in Georgia and Tennessee win Senate approval and are signed into law, they would trigger immediate legal challenges.
Abortion opponents across the country are hopeful the US Supreme Court – with new Justices Neil Gorsuch and Brett Kavanaugh – will either reverse Roe v Wade, or uphold specific state laws that could undermine the court's 1973 ruling establishing the right of women to abort a fetus that can't survive outside the womb.
God must surely be weeping for the children who have been destroyed in the most gruesome manner, with the full consent of their own mothers.
How such depravity is now rationalized I will never understand but I can't understand even more are the celebrities that are trying their best to support the abortions!
2020 hopefully Oprah Winfrey waded deeper into political waters this summer by promoting the "Shout Your Abortion" movement and its attempts to normalize the killing of unborn babies.
States that are led by the Dems push for horrifying pro-abortion bills!
But even the liberal voters seem to change their mind after these actions!
The new polling data from Marist University shows one of the biggest pro-life shifts in history. Americans moved towards the pro-life direction on abortion by a 17% margin in one month after Democrats defending allowing babies to die in infanticide and legalized abortions up to birth in the state of New York.
In a substantial, double-digit shift, according to the poll, Americans are now as likely to identify as pro-life (47 percent) as pro-choice (47 percent). Just last month, a similar survey conducted by The Marist Poll found Americans more likely to identify as pro-choice than as pro-life by 17 percentage points (55 to 38 percent). Democrats moved in their pro-life identity from 20 percent to 34 percent.
The shift was led by Democrats and those under 45 years old, according to a survey taken Feb.12-17 in the wake of efforts in several states to legalize abortion up until birth. Among Democrats, the gap between pro-life and pro-choice identifiers was cut in half from 55 percent to 27 percent. The number of Democrats now identifying as pro-life is 34 percent, up from 20 percent last month, while the number identifying as pro-choice fell from 75 percent to 61 percent. Younger Americans also moved dramatically, now dividing 47 percent pro-life to 48 percent pro-choice. One month ago, the gap was almost 40 percentage points with only 28 percent identifying as pro-life and 65 percent identifying as pro-choice.
Spread this on ALL your platforms!
---
Social media censorship is suppressing the truth about the dangers of globalism and brutal cultures infiltrating the west. Please share this article wherever you can. It is the only way we can work around their censorship and ensure people receive news about issues that Democrats and the mainstream media suppress.
Scroll down to leave a comment below.
Subscribe to Our Newsletter