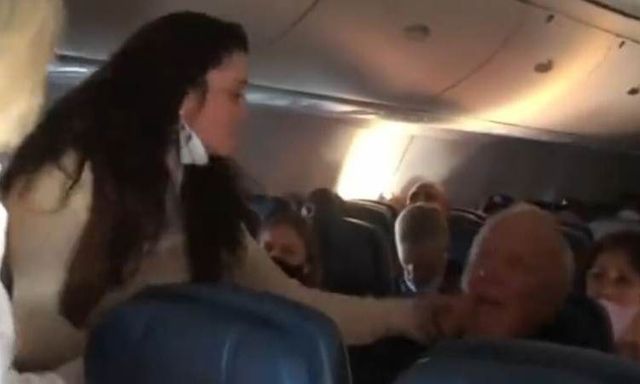 A really disturbing video from a Delta flight shows a furious woman chastising a fellow passenger for not wearing a mask while he was eating.
Except, the woman wasn't wearing her mask either.
The footage shows the Karen shouting at a man behind her for not wearing a mask, then hitting him when he responded: "You put your mask on, b***h!"
Flight attendants tried to intervene, but the woman punched, scratched, and spat on the man.
After the man was struck, he told the Karen, "Now you're going to jail. That's assault. As soon as we get to Atlanta, you're going to jail!"
The woman again shouted, "Put your mask on!"
The man replied: "Put yours on, b**ch!"
"I won't put my mask on!" the angry pro-mask woman said.
Video from ATL Uncensored:
Just before the woman is dragged down the aisle by two air marshals she tells the man, "I won't put my mask on until you put your mask on."
The woman was reportedly arrested. Another passenger is heard at the end of the video saying the woman poured hot water on her.
The incident took place on a stint from Tampa, Florida, to Atlanta, Georgia.
---
Social media censorship is suppressing the truth about the dangers of globalism and brutal cultures infiltrating the west. Please share this article wherever you can. It is the only way we can work around their censorship and ensure people receive news about issues that Democrats and the mainstream media suppress.
Scroll down to leave a comment below.
Subscribe to Our Newsletter