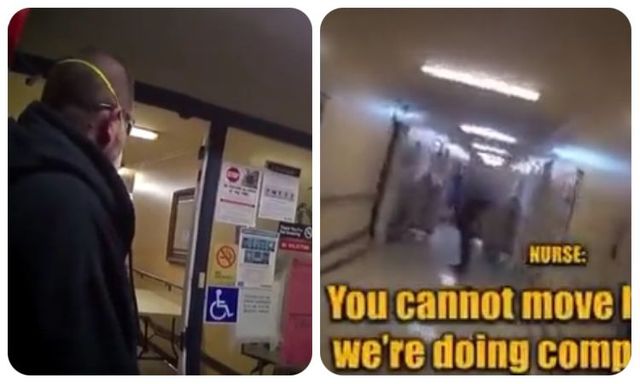 When the police officer entered a room at a southern California care facility last month, he found a panicked nurse performing chest compressions on a patient, body-camera footage shows. The patient was in cardiac arrest, and the staff did not have the proper equipment to help, according to a police report.
But just outside the entrance of the building stood paramedics equipped with possible lifesaving tools. They had refused to cross the threshold, claiming it was against state covid rules, according to the report.
Though the paramedics did not specifically state the restriction they were referring to, KTTV reported that a guideline could be included in an outdated April 2020 memo, in which "personnel responding to long-term care facilities" should request "the facilities to move patients to the door or outside the location."
Video below:

The patient, who has not been identified by authorities, was taken to a nearby hospital, where he was pronounced dead.
The officer's five-minute body-camera video troubled city leaders, acting Fire Chief Brian Park said in a statement Wednesday. In response, the fire department placed the paramedics on leave pending a third-party investigation, and the city council ordered the public release of the footage.
"We want to have a thorough investigation, and the actions [of the paramedics], if they were not in any way in keeping with policy, or even if it was, it will be addressed," Rialto Mayor Deborah Robertson said at a city council meeting last week.
"It is difficult to watch the tape," said Rialto Mayor Pro Tem Ed Scott, who received a complaint from a staff member at the center and reported it to the City Attorney. "It is particularly difficult," he explained, because this is such a well-regarded Fire Department, known for its community outreach.
The San Bernardino County Chapter of the Emergency Medical Services Authority had similar things to say. Sergy El More-Shedy from the state EMSA sent FOX 11 the following statement:
"Upon acceptance of a call assignment, California paramedics cannot refuse service (i.e., assessment, treatment, transport) unless directed by law enforcement or if the scene is unsafe. Local protocols may change instructions for the conditions to assess, treat, and/or transport."
The county office says they have no guidelines that are any different, saying they were also surprised that Rialto was the focus of the complaint. Rialto city officials, who have launched an investigation, say there may have been some restrictions at the beginning of the pandemic, but none at this point.
---
Social media censorship is suppressing the truth about the dangers of globalism and brutal cultures infiltrating the west. Please share this article wherever you can. It is the only way we can work around their censorship and ensure people receive news about issues that Democrats and the mainstream media suppress.
Scroll down to leave a comment below.
Subscribe to Our Newsletter