The Alabama football team hosted the LSU Tigers for a Southeastern Conference contest at Bryant-Denny Stadium.
Alabama, ranked No. 2 in the first College Football Playoff rankings, entered the game 7-1 overall and 4-1 in the SEC. Most recently, the Crimson Tide beat the Tennessee Vols 52-24 on Oct. 23.
LSU entered the matchup 4-4 overall and 2-3 in the SEC. The Tigers fell to Ole Miss 31-17 on Oct. 23.
Alabama football run game has seen better nights than its performance against LSU on Saturday night.
Alabama won 20-14 after stopping LSU in the red zone and batting down a pass on the final play of the game.
Alabama ran the ball 26 times against LSU and netted 6 total rushing yards. The Crimson Tide averaged 0.2 yards per run for the game. The 6 yards was a low under coach Nick Saban and was well off the season averages of 171 yards per game and 4.5 yards per rush.
Brian Robinson Jr. was Alabama leading rusher with 18 yards and a touchdown on 13 attempts. Bryce Young ended the night with minus-22 yards, including sack yardages but had runs of 12 and 15 yards.
The Alabama fans let their frustrations about the run game out on Twitter
@AlabamaFTBL can't even run the clock out tonight. #RollTide

— Lt. Andy Norris 🚔🇺🇸 (@LtAndyNorris) November 7, 2021
😤😤😤😤 pic.twitter.com/95nbghZA4s

— Alabama Football (@AlabamaFTBL) November 7, 2021
It seems like every play has to be a pass for us! 😂😂😂

— OJ Howard ™ (@TheRealOjHoward) November 7, 2021
But some of them complained about certain censorship while watching the game:
BREAKING: Viewers complaining about muted crowd noise on ESPN for Alabama-LSU game, possibly due to anti-Biden chants

— Jewish Deplorable (@TrumpJew2) November 7, 2021
I'm watching the game now. It's definitely muted and its not cool.

— 🇺🇸 Lowkey Rey 2.0 🇺🇸 (@AtlRey) November 7, 2021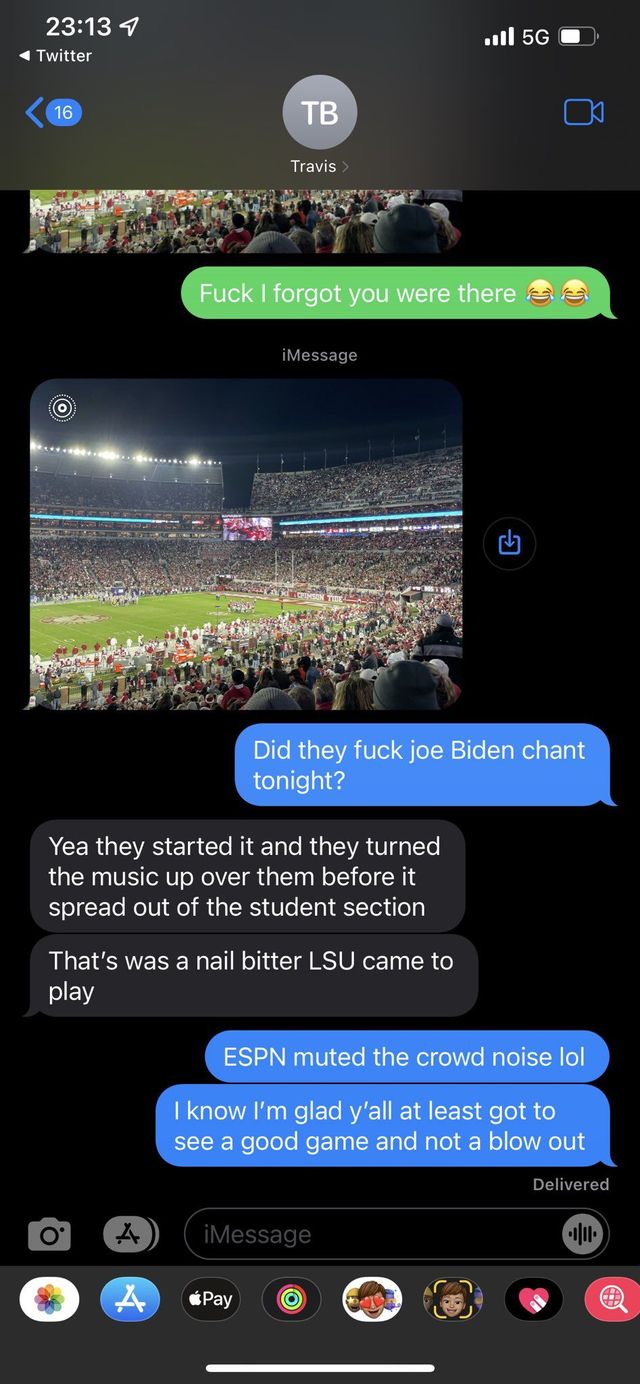 — Gato (@elgato4303) November 7, 2021
Manipulation of The Media , just Like the News

— Robert Perry (@RobertP13184130) November 7, 2021
I wondered about that. High school friend is there and posted a Facebook video of the chant. Sound is very muted on tv though.

— Disband the FBI. LGBFJB (@spicypico) November 7, 2021
On Thursday, Let's Go Brandon was heard on ESPN's broadcast

Tonight ESPN lowered the crowd noise on their broadcast pic.twitter.com/tIGZRk4xZ7

— Jewish Deplorable (@TrumpJew2) November 7, 2021
Here are the highlights of the game:
🗣 Bech I'm From Louisiana

TOUCHDOWN TIGERS pic.twitter.com/6q2nPIXUNR

— LSU Football (@LSUfootball) November 7, 2021
LSU kicker Avery Atkins fakes the punt and throws a jump pass to Jack Mashburn for the first down (0-0)
The Fake to Perfection 💯@AveryAtkins32 🤝 @jacksmashburn pic.twitter.com/6wNtBXxhr4

— LSU Football (@LSUfootball) November 6, 2021
LSU quarterback Max Johnson throws to Brian Thomas Jr. for a touchdown (7-0 LSU)
The Johnson to Thomas TOUCHDOWN 🔥 pic.twitter.com/YBSYg7e8RN

— LSU Football (@LSUfootball) November 6, 2021
While many college students remain under the spell of their liberal and socialism indoctrination, the college football crowd is not the typical campus empty heads who are busy playing Hakki sack and smoking hemp.
These college sports fans tend to be red meat-eating Americans as their parents and alumni are. They are not buying into fake news propaganda and it shows.
Chanting "F*** Joe Biden' has become a new patriotic American tradition. It's not just at football games. The phenomenon is growing and in just one month has spread to concerts, boxing matches, golf tournaments, marches, protests, and other public venues.
Back in September, in just one month, over one million people have participated in the chants live, while over 14 million have watched the events on the Internet. The numbers are much bigger now!
It went worldwide just look at the Australian media reporting about it:
Sky News calls Let's Go Brandon "the meme of the decade" 😂😂😂

And in 3, 2, 1, liberals will want the network shutdown immediatelypic.twitter.com/tpR3yC2UPx

— Trump4America (@trump4_america) November 7, 2021

(This post may contain disputed claims. We make no assertions as to the validity of the information presented by our Opinion Columnist. This is an opinion article, and this post should be treated as such. Enjoy.)
---
Social media censorship is suppressing the truth about the dangers of globalism and brutal cultures infiltrating the west. Please share this article wherever you can. It is the only way we can work around their censorship and ensure people receive news about issues that Democrats and the mainstream media suppress.
Scroll down to leave a comment below.
Subscribe to Our Newsletter