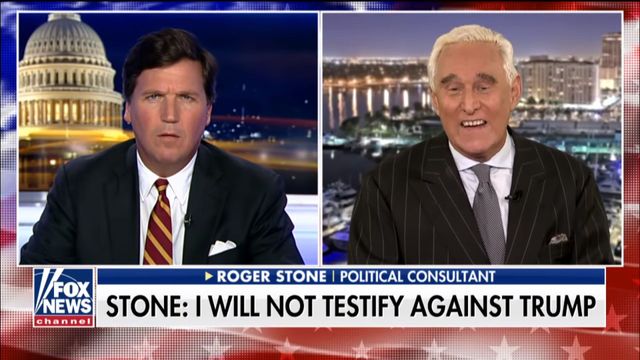 Fox News' Tucker Carlson interviewed Roger Stone on Friday night following his arrest earlier that morning by FBI agents after being indicted in special counsel Robert Mueller's Russia investigation.
The FBI raid on Stone's home happened at approximately 6 a.m. and was recorded by CNN, who claimed that they were at the property because of their "reporter's instinct."
The Washington Examiner reported that Stone was arrested in an early-morning raid at his house in Fort Lauderdale, Fla., on Friday. After appearing in federal court in Florida, a judge ordered him to be released on a $250,000 surety bond. His travel was also restricted to Florida, New York, and Washington, D.C.
In recounting his arrest, Stone said 29 FBI agents descended on his home in 17 vehicles with lights flashing and "terrorized" his wife and dogs.
"First of all, it's disconcerting that CNN was aware that I would be arrested before my lawyers were informed," Stone told Carlson. "That's disturbing."
During the Carlson interview, Stone pointed out that he has no criminal past and was no flight risk and he would have happily turned himself in on request. He also pointed out that if he was dangerous enough to require a swat team, why was CNN allowed to be there in danger?
Stone highlighted multiple reasons that he believed that the raid was excessive use of force including the fact that he was released just hours later with a surety bond where only a signature is required and no exchange of money takes place.
Stone continues to discuss the events that lead up to the raid and explained what it was all really about:
So what is this about? It's about silencing me.
There is a war on alternative media. There is a war where they are trying to criminalize political expression. There is a war where they are trying to criminalize free speech.
The efforts to shut down my show at "Info Wars", the efforts to silence Alex Jones, who is one of my greatest supporters and proponents, are part of this war.
So, I intend to plead not guilty. I believe I will be vindicated.
Immediately after being released on bond, Stone said that he would not testify against the president because that would require him to lie. Stone also denied working in any way with the Russians to help get Trump elected and also denied that anyone in the Trump campaign told him to contact WikiLeaks.
---
Social media censorship is suppressing the truth about the dangers of globalism and brutal cultures infiltrating the west. Please share this article wherever you can. It is the only way we can work around their censorship and ensure people receive news about issues that Democrats and the mainstream media suppress.
Scroll down to leave a comment below.
Subscribe to Our Newsletter