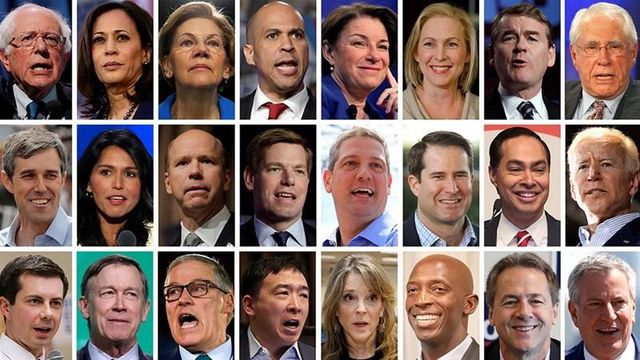 The already crowded field includes Sen. Kamala Harris (D-CA), Sen. Cory Booker (D-NJ), Rep. Tulsi Gabbard (D-HI), Sen. Elizabeth Warren (D-MA), Sen. Bernie Sanders (I-VT), Beto O'Rourke … feel tired yet? That's not even the entire pool of people. Others include Sen. Kirsten Gillibrand (D-NY) and Eric Swalwell (D-CA).
Even with all of those names, we still haven't even begun to scratch the surface. There are a total of 21 Democrats running and more are expected to announce campaigns.
It seems that the place becomes too crowded and we have the first drop out!
Rep. Eric Swalwell is dropping out of the 2020 Democratic presidential primary, according to a House Democratic lawmaker close to the congressman.
Swalwell is expected to make a formal announcement at a press conference this afternoon.
The California lawmaker, who has lagged in polls, would become the first in the crowded Democratic field to drop out of the contest. He took part in the first series of debates late last month.
Swalwell had previously fueled speculation that he's dropping out of the race after canceling New Hampshire stops at the last minute and announcing a press conference for Monday afternoon, The Hill reports.
Who will be next?
Scroll down to leave a comment below.
---
Social media censorship is suppressing the truth about the dangers of globalism and brutal cultures infiltrating the west. Please share this article wherever you can. It is the only way we can work around their censorship and ensure people receive news about issues that Democrats and the mainstream media suppress.
Scroll down to leave a comment below.
Subscribe to Our Newsletter