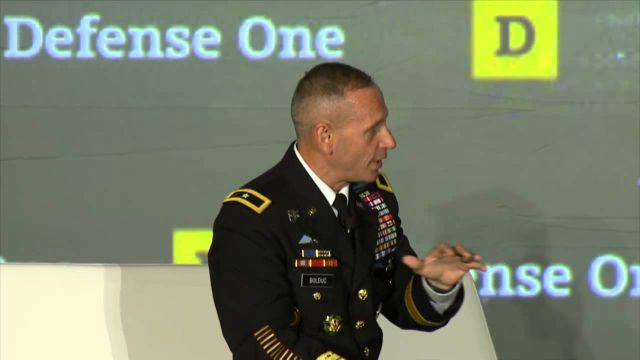 Imagine retired army general running for a place in Senate, sound like a man that gets things done. I'm sure as a military man he will get things accomplished.
Luckily for the residents of New Hampshire, they will have a chance to vote for this kind of men!
From the Daily Caller:
Retired Brig. General Don Bolduc officially announced Monday that he's running as a Republican against Democratic New Hampshire Sen. Jeanne Shaheen.
The general was motivated to run by what he described as a crisis of leadership in national politics, he told the Daily Caller News Foundation in a phone interview.
"We are facing a leadership crisis. Our politicians are working for themselves, and if we don't make a change in New Hampshire, nothing's going to change in Washington, D.C.," Bolduc said. He said his goal is to bring "servant leadership, personal responsibility and a dedication to our core values" to the Senate.
Bolduc's 36 years in the Army included 10 tours in Afghanistan, two awards for valor, five Bronze Star medals and two Purple Hearts. He's a former Green Beret, and was the commander of Special Operations Command-Africa.
The general's announcement video highlighted his time as one of the legendary "horse soldiers" — U.S. special operations forces who invaded Afghanistan on horseback in a top-secret mission following the Sept. 11 terrorist attacks.
WATCH:
I've always put people over politics and service over self. Check out my story ⬇️⬇️ pic.twitter.com/3j83Vgli3k

— Donald Bolduc (@GenDonBolduc) June 24, 2019
General, thank you for your outstanding and commendable service. It is your mindset, strategy skill set and leadership experience that is required in our Government. Your exceptional qualifications are precisely what I believe the founding father's had envisioned having private sector representatives in Congress. May our Heavenly Father bless you. May He direct you and give you wisdom. I ask in the mighty name of Jesus Christ. I look forward to your Political success.
Please back this man for office, in every way that you can. Get out and VOTE for these good men and women.
---
Social media censorship is suppressing the truth about the dangers of globalism and brutal cultures infiltrating the west. Please share this article wherever you can. It is the only way we can work around their censorship and ensure people receive news about issues that Democrats and the mainstream media suppress.
Scroll down to leave a comment below.
Subscribe to Our Newsletter