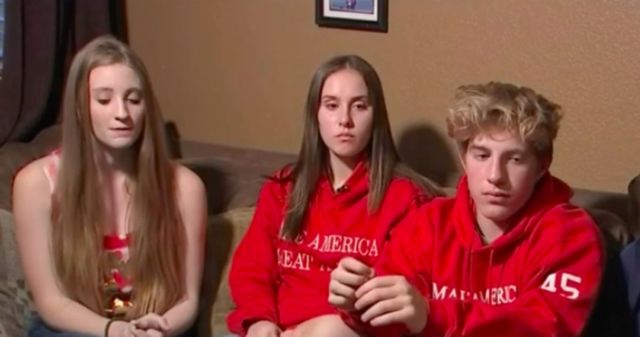 Arizona will become as bad as communist California if they continue this way!
Several students at Perry High School say they were disrespected by staff and asked to leave campus because they were wearing "Make America Great Again" attire.
Fox 10 reported that controversy is brewing in Gilbert after students at Perry High School say they were unfairly targeted by administrators because they showed up to school wearing "Make America Great" again attire.
They tell us it was all part of Spirit Week at the school and the last day of the week was "Party in the USA" day, a theme to celebrate our country. A group of students wore the attire to participate, but their choice of clothing didn't sit well with the Perry staff and officers.
We just wore all of the America stuff we had, obviously, Trump is the president so we wore Trump stuff because he's the leader of our country, right?" said sophomore Morgan Dupuis.
At least eight students in MAGA gear were brought to the office at the end of the school day. The students say they were taking pictures in their outfits and holding a President Trump flag when a resource officer approached them.
"The police officer came up and said, 'we would like you to take off the merchandise and get off the campus,'" junior Tori Farris said.
The students asked the officer "why" and started to walk off school property when they said he started taking photos of them and asked them to come into the front office.
"He singled me out and said, 'Hey darlin' what's your name?' And I was kind of like, 'why do you need my name? We are going off-campus, we're doing what you told us to do,'" explained freshman Logan Jones.
The students called their parents as they were being escorted to the administration office.
"She said that they had been asked to leave school campus because they were wearing "Make America Great" things and they were taking pictures with a big banner," Jennifer Farris, Tori's mom, said.
Farris walked into the office with her cell phone recording video of the encounter. In the video you can hear her ask the staff if her daughter was being told to leave because of her MAGA sweatshirt, and a woman tells her "no."
"I asked why they were asked to leave the campus and they said because they were displaying the flag," Farris said. "I said, 'are they not allowed to do that?' and they said 'no, it's disrespectful and we see that as disrespecting the flag and we asked them not to.'"
Farris said she was trespassed from the school property and forced to leave.
Watch:
You will be hated because you do not support Abortion, homosexuality, LGBTQ, Open borders, Climate change " Climate engineering programs", Drag Queen storytime for children, Guilt and shame for being white, Social Justice, Political correctness, Feminism, general hate for all things American Past and present.
Editor's Note: This particular story was popular at the time it originally made the news and is circulating again a second time for the important and applicable message that's relevant today.
---
Social media censorship is suppressing the truth about the dangers of globalism and brutal cultures infiltrating the west. Please share this article wherever you can. It is the only way we can work around their censorship and ensure people receive news about issues that Democrats and the mainstream media suppress.
Scroll down to leave a comment below.
Subscribe to Our Newsletter