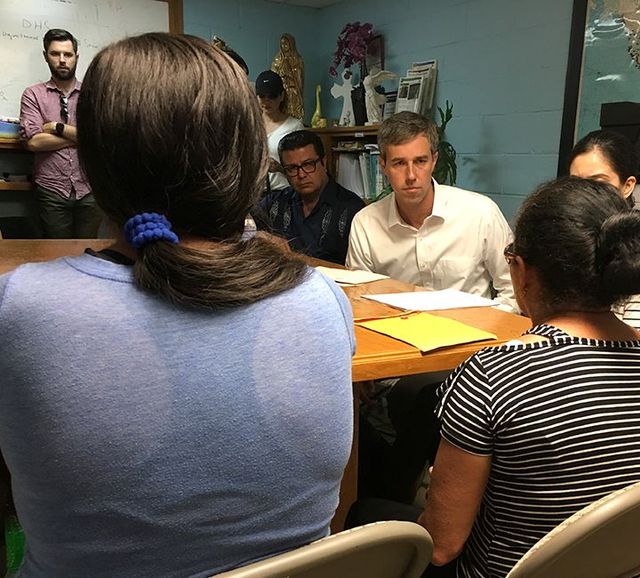 Democratic presidential candidate Beto O'Rourke visited Mexico on Sunday and listened to tearful immigrants say they fled Central American violence and turmoil to seek asylum in the U.S., but were turned away at the border.
In his first international trip as a White House hopeful, the former congressman traveled to Ciudad Juarez, across the Rio Grande from his native El Paso, Texas, to meet what his campaign described as "individuals and families directly impacted by Donald Trump's cruel and inhumane policies."
O'Rourke, who recently acknowledged the existence of the border crisis, said he is in Mexico to "shed light on the desperate circumstances those who are seeking asylum and refuge are fleeing, and the conditions these families and individuals are forced to endure when they've been turned away from our borders."
O'Rourke is the first 2020 Democratic presidential candidate to take his campaign outside of the United States.
"We hope, by sharing these stories, that the conscience of our country is awoken right now, and the need to change the policies that we have in place" becomes apparent, O'Rourke said via a livestream on his Facebook page.
It is not Trump that is treating the Dems bad, he is trying his best to uphold the law. Those of you who are refusing to do so have no business running for the office.
---
Social media censorship is suppressing the truth about the dangers of globalism and brutal cultures infiltrating the west. Please share this article wherever you can. It is the only way we can work around their censorship and ensure people receive news about issues that Democrats and the mainstream media suppress.
Scroll down to leave a comment below.
Subscribe to Our Newsletter