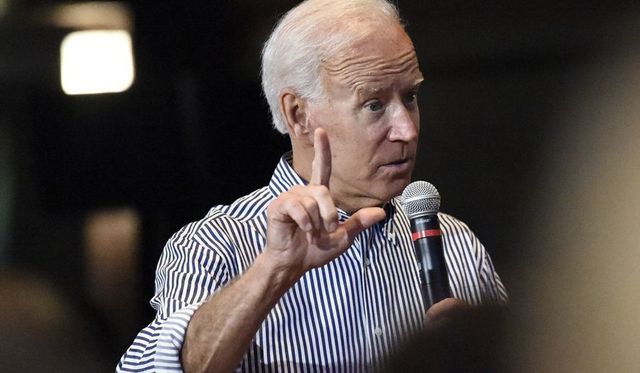 Former Vice President Joe Biden had another 'gaffe' yet again on the campaign trail last week. This time the 76-year-old told media how much he loved being in the state of Vermont…except, he was actually in New Hampshire. This is just the latest in a litany of verbal miscues he has had so far on the presidential campaign trail.
He did it again and this time he praised a segregationist senator that has a history of anti-Semitic and anti-Mexican language.
He praised the late South Carolina senator Fritz Hollings during a speech Wednesday, calling the Democrat a "great, great friend" who "helped me a great deal through some very difficult times."
Watch the video below:
But the man he praised has dark history.
As the Washington Free Beacon reported Hollings's long political career included a segregationist stint when he was governor of South Carolina from 1959 to 1963. During this time, the Confederate battle flag was flown above the South Carolina State House and beneath the United States and South Carolina flags. The Confederate flag was moved to fly over the building's dome in 1961, as part of a commemoration of the centenary of the Civil War.
In the final address of his gubernatorial career, Hollings softened on segregation, telling the South Carolina General Assembly that the integration of Clemson University must be done with "law and order."
But Hollings's turn on segregation did not prevent him from criticizing his colleagues with offensive language. While serving in the Senate in 1981, he referred to Democratic Ohio senator Howard Metzenbaum, who was Jewish, as "the senator from B'nai B'rith," during a floor debate.
B'nai B'rith is one of the oldest organizations devoted to promoting Jewish identity as well as combating anti-Semitism. Metzenbaum interpreted the remark as offensive.
"I wish the senator would refer to me as the senator from Ohio," he said in response. "I resent being referred to as the B'nai B'rith senator."
Hollings later apologized for the remarks, saying, "It was said only in a moment of levity. I said it only in fun."
During his unsuccessful run for the Democratic presidential nomination in 1983, Hollings criticized supporters of California senator Alan Cranston, a fellow presidential contender, after Cranston finished in second in an Iowa straw poll.
"You had wetbacks from California that came in here for Cranston," Hollings told reporters, in reference to his frustration at not receiving as many votes in the poll.
"It's a cause for concern if you're running for president, especially if you're not sure what state you're in," Phil Johnston, the Massachusetts Democratic Party's former chairman, told the Boston Herald. "We all love and respect him, but in 2020 we have to make sure the nominee is up the task of taking on President Trump."
"He needs to show he's up to the task of being president, day-in and day-out for the next 14 months," Johnston added. "If he continues to make these mistakes, many people will be concerned."
Biden, the 76-year-old former vice-president and senator from Delaware enter a crowded field of competitors, but polls in recent weeks have consistently shown him leading the pack, perhaps because of his experience and lengthy record in office.
But unlike some of his much younger opponents, it's his decades in the public eye, and in particular his well-documented history of confusing or downright embarrassing gaffes and misstatements, that may end up working against him.
---
Social media censorship is suppressing the truth about the dangers of globalism and brutal cultures infiltrating the west. Please share this article wherever you can. It is the only way we can work around their censorship and ensure people receive news about issues that Democrats and the mainstream media suppress.
Scroll down to leave a comment below.
Subscribe to Our Newsletter