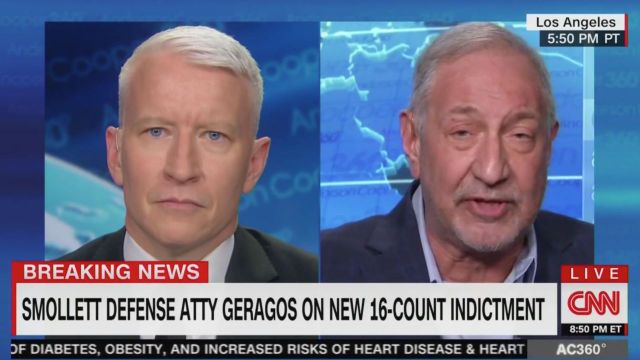 Mark Geragos regularly appeared on CNN as a legal analyst just got axed by CNN on Monday after he was named as the co-conspirator in 'Creepy Porn Lawyer' Michael Avenati's criminal complaint.
It is no surprise that a legal analyst on a fake news network who represents some shady characters like Gary Condit, Colin Kaepernick, Jussie Smollett and murderer Scott Peterson, would be tied to something like this.
"Mark Geragos is no longer CNN contributor."
— Justin Baragona (@justinbaragona) March 25, 2019
Michael Avenatti and an unnamed co-conspirator were accused of trying to extort $20 million from NIKE.
According to the complaint, Avenatti threatened to hold a press conference to announce misconduct by NIKE unless the athletic apparel company hired Avenatti and his co-conspirator to conduct an internal investigation for over $20 million.
Added to this, Avenatti has been charged with wire and bank fraud.
The Wall Street Journal also reported that Avenatti's co-conspirator is CNN analyst & celebrity attorney Mark Geragos.
This just keeps getting better with these sorts of creeps getting the Karma they earned.
---
Social media censorship is suppressing the truth about the dangers of globalism and brutal cultures infiltrating the west. Please share this article wherever you can. It is the only way we can work around their censorship and ensure people receive news about issues that Democrats and the mainstream media suppress.
Scroll down to leave a comment below.
Subscribe to Our Newsletter