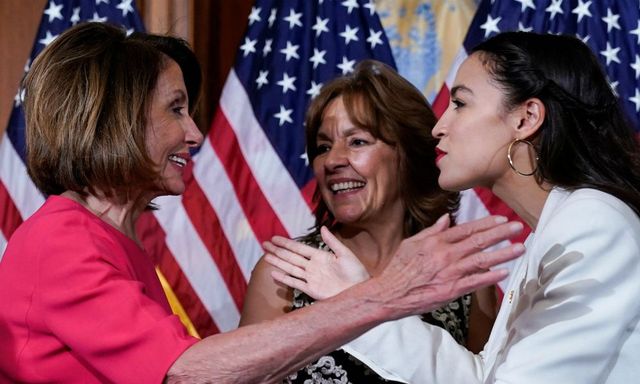 Jesse Waters on Fox's "The Five" said it best, "when you use the race card that means you have no other cards to play".
It seems that these young radical Democrats can play that card only!
Alexandria Ocasio-Cortez has taken her feud with House Speaker Rep. Nancy Pelosi to the extreme by insinuating she is a racist.
Pelosi made headlines when she mocked the Twitter followings Ocasio-Cortez and her crew of Reps. Ilhan Omar, Rashida Tlaib and Ayanna Pressley.
Then Ocasio-Cortez and Tlaib fired back with shots of their own, followed by Omar who got into the fray with them.
It seems that the Democratic party decided to react before it's too late!
Missouri Democratic Rep. William Lacy Clay criticized fellow New York Democratic Rep. Alexandria Ocasio-Cortez on Wednesday for directing "racist accusations" against House Speaker Nancy Pelosi.
The Congressional Black Caucus member also called Ocasio-Cortez's chief of staff, Saikat Chakrabarti, "ignorant," and the "tactics" of the progressive group Justice Democrats "juvenile."
"It shows you how weak their argument is when they have to resort and direct racist accusations toward Speaker Pelosi … it's very disappointing to me," said Clay, according to The Hill.
"It shows you how ignorant and little history [Chakrabarti] knows, how ignorant he is to American history. How dare he," he said before turning his attention to Justice Democrats: "They're missing the fact that we have a very thin margin of a majority that we're operating under and apparently it doesn't matter to Justice Democrats, they just want to get skins. They want to score points for whatever reason. But I find it juvenile, their tactics, I find their ignorance to be beyond belief about American history and about who are really segregationists. And so how dare they try to play the race card at this point, it shows you the weakness of their arguments."
Let's face it. AOC isn't nearly as smart as she pretends. She is in way over her head. She can't answer basic American history questions. So the race is all she has. It's worked every time. That's the thing now yell racism and watch what happens.
---
Social media censorship is suppressing the truth about the dangers of globalism and brutal cultures infiltrating the west. Please share this article wherever you can. It is the only way we can work around their censorship and ensure people receive news about issues that Democrats and the mainstream media suppress.
Scroll down to leave a comment below.
Subscribe to Our Newsletter