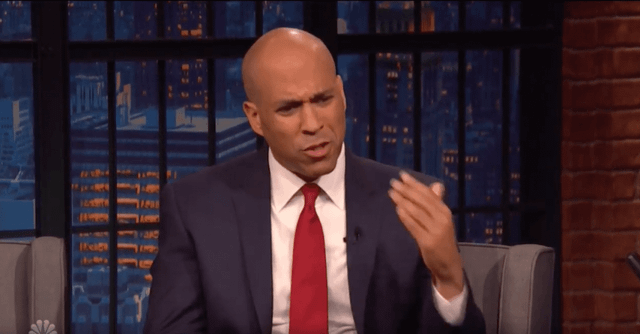 Now if Trump said this about him he would be called a racist.
During an appearance on NBC's "Late Night With Seth Meyers, Cory Booker said that his "testosterone" sometimes makes him want to punch Trump in the face.
"Donald Trump is a guy who, you understand, he hurts you, and my testosterone sometimes makes me want to feel like punching him, which would be bad for this elderly out-of-shape man that he is if I did that," Booker said to laughs from the audience.
"He's the body-shamer, he's the guy that shows — tries to drag people in the gutter," Booker said.
"In this moral moment, we need not to talk about necessarily what we're against, but what we're for. And the best way of looking at this is just our history," – he added
Watch the video below:
Now if Trump said this about him he would be called a racist.
A cop gets fired for saying AOC needs a round which is something that no man should say. Now, we have this guy who wants to assault the president. Both were just trash talk if you ask me but notice how they're treated differently.
What do you think?
---
Social media censorship is suppressing the truth about the dangers of globalism and brutal cultures infiltrating the west. Please share this article wherever you can. It is the only way we can work around their censorship and ensure people receive news about issues that Democrats and the mainstream media suppress.
Scroll down to leave a comment below.
Subscribe to Our Newsletter