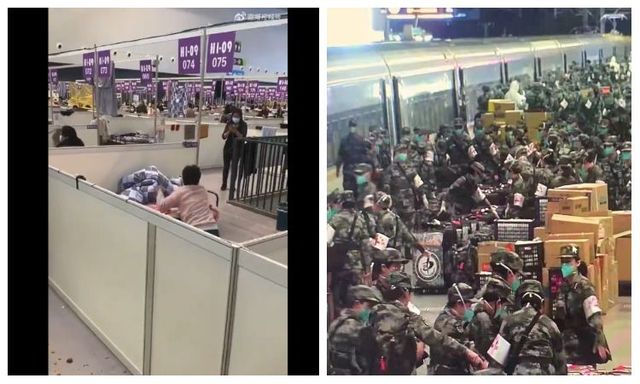 After communist China began enforcing a "zero-Covid" policy, reinstituting the most onerous "safety" restrictions in the country since the pandemic began more than two years ago, Chinese citizens are desperate for food and other basic necessities to the point where many of them are killing themselves.
If you wanted to see the dystopian nightmare of what lockdowns result in, Shanghai is there right now. In the videos below, people can be heard screaming out their windows after a week of lockdown, with the sense that something terrible was going to happen because "no one knows when this is going to end."
Gunshots can be heard in the Jiuting area in #Shanghai after people protested and demanded food delivery during the #COVID19 #lockdown#上海 九亭小區 饥民抗议,好像兩次開槍示警 pic.twitter.com/bAZ5tVjmIM

— Jennifer Zeng 曾錚 (@jenniferatntd) April 9, 2022
The human cost of this awful lockdown is unfathomable, people are being driven to the brink, the mental health cost is immeasurable, this man sums up how many are feeling at the moment pic.twitter.com/0kBGPwiNEE

— Winston Sterzel (@serpentza) April 7, 2022
In #China, agonized locals in some residential district in #Shanghai totalitarian lockdown screamed in horror "we are starving to death" "we haven't eaten for a very long time" "we are really starving to death". @SolomonYue pic.twitter.com/Yy1rB9pSKd

— Northrop Gundam 💙🇺🇦💛 (@GundamNorthrop) April 5, 2022
"It's for your health" pic.twitter.com/hAbf34wA0w

— Jack Posobiec 🇺🇸 (@JackPosobiec) April 11, 2022
"If the child is younger than seven years old, those children will receive treatment in a public health center," Wu Qianyu, an official from the Shanghai Municipal Health Commission, said Monday. "For older children or teenagers… we are mainly isolating them in centralized [quarantine] places."
At #Shanghai, babies are separated from their parents at the quarantine site! Many babies developed skin ulcers because nobody gave them proper cleanings. #covid #COVID19 #CCPVirus
#上海 金山婴幼儿隔离点,孩子哭鬧,多名幼儿得不到清洗,皮肤溃烂。 #中共病毒 pic.twitter.com/VvBSwG99sc

— Jennifer Zeng 曾錚 (@jenniferatntd) April 2, 2022
Shanghai quarantine centers

"It's for your health" pic.twitter.com/Xst2rWrkO7

— Jack Posobiec 🇺🇸 (@JackPosobiec) April 11, 2022
What the CCP is doing to the people of Shanghai is criminal https://t.co/bKcxreJ63J

— Jack Posobiec 🇺🇸 (@JackPosobiec) April 11, 2022
More military troops are on their way:
More troops are pouring into Shanghai pic.twitter.com/WHUUkW90yj

— Jack Posobiec 🇺🇸 (@JackPosobiec) April 11, 2022
There's a lot of madness there, but some of it is also endangering U.S Marines at the U.S. Consulate. A Consulate employee had to put out word on WeChat, asking if anyone could spare food for seven of the Marines.
"Marines have depleted their food and can no longer get delivery," the employee told colleagues living in Shanghai.
The Marines only had vacuum-sealed rations left, the employee said in the message, seen by Reuters and verified by two people.
"I know we are all running short on supplies. If you can spare a meal's worth or two for 7 extra mouths, they'd be very appreciative," the employee said.
Staff responded with supplies, a person said in a later message, adding: "The marines are beyond thankful."
At least they have vacuum-sealed rations, which may be more than the Chinese have. But why is the Biden State Department leaving them in that situation, in that hellhole, at the mercy of the CCP? Where's the response to this from the Biden Administration?
OPINION: This article contains commentary which reflects the author's opinion
---
Social media censorship is suppressing the truth about the dangers of globalism and brutal cultures infiltrating the west. Please share this article wherever you can. It is the only way we can work around their censorship and ensure people receive news about issues that Democrats and the mainstream media suppress.
Scroll down to leave a comment below.
Subscribe to Our Newsletter