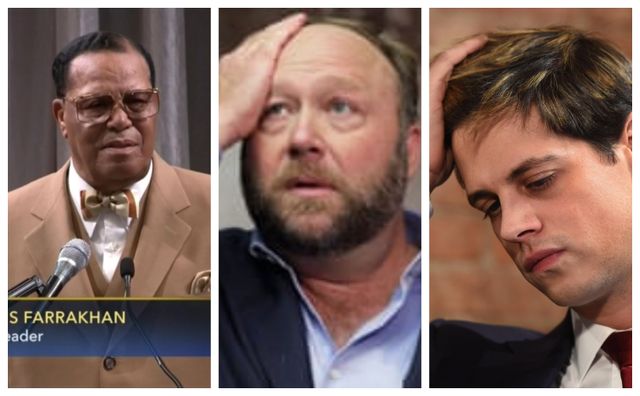 After years of wavering about how to handle the extreme voices populating its platform, Facebook on Thursday evicted seven of its most controversial users — many of whom are conservatives — immediately inflaming the debate about the power and accountability of large technology companies.
BBC reported:
The social network accused Alex Jones, host of right-wing conspiracy website InfoWars, its UK editor Paul Joseph Watson and ex-Breitbart News editor Milo Yiannopoulos of hate speech.
Louis Farrakhan, the Nation of Islam leader who has expressed anti-Semitic views, will also be excluded.
Facebook has already banned anti-Islamic UK groups such Britain First.
The latest ban also applies on Instagram, which Facebook owns.
The banned group also includes Paul Nehlen, a white supremacist, and Laura Loomer, an anti-Islamic activist with a large social media presence.
"We've always banned individuals or organizations that promote or engage in violence and hate, regardless of ideology," a Facebook spokeswoman said in a statement. "The process for evaluating potential violators is extensive and it is what led us to our decision to remove these accounts today."
Facebook's move is one of the tech industry's broadest actions to punish high-profile extremists at a time when social media companies are under fire for allowing hateful content and misinformation to spread on their services.
President Trump and others have accused the companies of censoring right-wing opinions and of having too much influence over free speech. Last week, Mr. Trump met with Twitter's chief executive, Jack Dorsey, after calling his company "very discriminatory."
What is your opinion on Facebook's latest action?
Scroll down to leave a comment below.
---
Social media censorship is suppressing the truth about the dangers of globalism and brutal cultures infiltrating the west. Please share this article wherever you can. It is the only way we can work around their censorship and ensure people receive news about issues that Democrats and the mainstream media suppress.
Scroll down to leave a comment below.
Subscribe to Our Newsletter