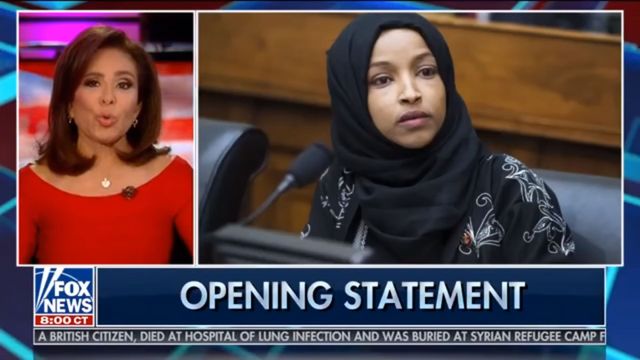 Fox News pulled Saturday's episode of the Justice with Judge Jeanine Pirro show that regularly airs at 9 PM on Saturday.
This comes on the heels of her controversial remarks she made about Rep. Ilhan Omar on her previous show.
Pirro's show was replaced with a repeat airing of the documentary series "Scandalous: The Trial of William Kennedy Smith," according to the Fox News schedule.
Fox News had admonished Pirro for her comment while several sponsors have left her show.
It is unknown at this time whether the show will return.
The Los Angeles Times reported:
A representative for Fox News did not comment on Pirro's status or the reason for the programming change. But the switch appears to be related to Pirro's March 9 comment about Rep. Ilhan Omar ( D-Minn.), who wears a hijab, a traditional head covering worn by Muslim women.
"Is her adherence to this Islamic doctrine indicative of her adherence to Sharia law, which in itself is antithetical to the United States Constitution?" Pirro said in the scripted opening of her March 9 program that dealt with Omar, a popular target of conservative pundits since she entered Congress.
Omar, an immigrant from Somalia, has stirred public outrage over tweets she's made regarding U.S. support of Israel that were interpreted as anti-Semitic.
Fox News, which typically stands by its hosts when they make controversial statements, issued a public rebuke of Pirro over the comments about Omar.
"We strongly condemn Jeanine Pirro's comments about Rep. Ilhan Omar," Fox News said in a statement. "They do not reflect those of the network and we have addressed the matter with her directly."
At least four advertisers — personal finance company NerdWallet, online marketplace Letgo and drugmakers Allergan and NovoNordisk — have said they have suspended their sponsorship of Pirro's program because of her remarks about Omar.
The controversial comment Pirro made was during a commentary she was given about Omar's anti-Semitic rhetoric and how it effects the Democratic Party. Pirro posed a question that in essence questioned whether Omar holds Sharia law above the Constitution.
Here is a partial transcript of Pirro's commentary:
You and the whole gang running for President in the Democratic primary in 2020 have appeased the rise of antisemitism in the Democrat party. The sad part is that all this is contrary to the tenants of your party, which is so receptive to the LGBTQ community, illegal immigrants, refugees and on and on. This is not what your party is.
Your party is not anti-Israel, she is. Think about this. She's not getting this anti-Israel sentiment doctrine from the Democrat Party. So if it's not rooted in the party, where is she getting it from? Think about it.
Omar wears a hijab, which, according to the Quran 33:59, tells women to cover so they won't get molested. Is her adherence to this Islamic doctrine indicative of her adherence to Sharia law, which in itself is antithetical to the United States Constitution?"
I don't have to tell you, Nancy, Jews have been persecuted almost from the beginning of time, when they were forced out of Egypt, to the six million killed in the Holocaust. And now we are witnessing the rise of anti-Semitism in Europe where incidents are up seventy-four percent in the last year alone in France. Where Jewish cemeteries are regularly desecrated with swastikas and people relay the common tropes of Jews with too much money and influence.
We all know how it starts. It starts that way. Hate is hate. Hate leads to violence and violence leads to retaliation. Which then leads to unrest and worse.
Watch the video:
---
Social media censorship is suppressing the truth about the dangers of globalism and brutal cultures infiltrating the west. Please share this article wherever you can. It is the only way we can work around their censorship and ensure people receive news about issues that Democrats and the mainstream media suppress.
Scroll down to leave a comment below.
Subscribe to Our Newsletter