by: Daveda Gruber:
Did you watch the Grammys last night? I tend to try to stay away from award shows as they produce a lot of anti-Trump dialect but I did watch the 61st Annual GRAMMY Awards at Staples Center last night.
Since President Donald Trump's election in 2016, the language at award shows makes me uneasy and I tend to hold the remote control ready to change the channel. I was pleasantly surprised when I didn't hear offensive rhetoric from famous people.
My finger was itching to click when Michelle Obama stepped on the stage but she didn't say anything offensive. I stuck with the show and held onto my remote control. I was ready for anything.
Joy Villa, 27, has shown her support of Trump for a couple of years now. She has dressed in outfits that surely show off her sentiments. Last year, the singer donned a rainbow-colored anti-abortion dress and in 2017 she wore a blue 'Make America Great Again' gown that featured Trump's name and slogan.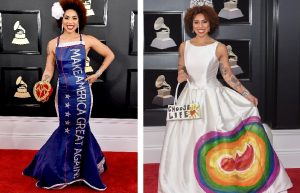 This year Villa made her annual MAGA statement on the 2019 Grammys red carpet by wearing another strongly conservative outfit. She donned a barbed wire border wall with a silver dress and crown with a red Make America Great Again purse. on her way into the Grammys
Once inside, she removed the silver and showed off a low-cut gown emblazoned with bricks and a back that read, "BUILD THE WALL." Villa's dress was designed by Desi Designs Couture.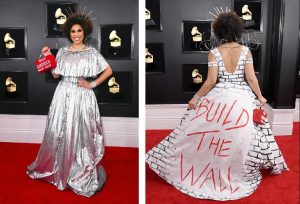 Villa told Fox News about her ensemble, "Well to no surprise, I'm still a Trump supporter and supporting the president and what he's doing. One in three women who are trying to come to this country illegally are sexually assaulted. Thousands of children are sexually exploited by coyotes bringing them across the border. Seventy percent of the heroin in our nation is brought in through Mexico. This is not personal against this country or the people. It's not about race. It's about protecting the people who are in this country. I'm Latina, I'm black. I support what the president says about building the wall, so that's what this dress represents."
Villa has spoken out on her support of Trump in her tweets:
I don't care what anyone thinks. I 100% support the wall & our President @realDonaldTrump. Do you want more drugs brought in? (70% of heroin from Mexico) More illegal women getting sexually assaulted (1 in 3)? More children being trafficked? (Thousands a year) because I DO NOT! pic.twitter.com/ErdOJhD5IN

— Joy Villa (@Joy_Villa) February 11, 2019
Woah! #twittertrending. Im SO glad other artists are coming out. It's time. It's been dominated for years by liberals…Conservative culture is taking over. #maga #walldress #Grammys2019 The Grammys red carpet gets political with 'MAGA fashion' statements https://t.co/8E5EKXZXrv

— Joy Villa (@Joy_Villa) February 11, 2019
Then there was Ricky Rebel.
Rebel, 38, sported a blue jacket that read "KEEP AMERICA GREAT AGAIN" down the front lapels with a white shirt and pants. He accessorized with patriotic star glasses and white heeled boots.
The back of Rebel's jacket simply read "TRUMP."

Rebel said, "Well, I'm Ricky Rebel, I have a new album called 'The New Alpha' so I wanted to wear something that represented what an alpha is and who an alpha is and I am the new alpha. And I'm reflecting millions of Americans out there who voted for Trump. Keep America great. That's right, baby. We are here. We're here all around the world, 50 million of us. My name is Ricky Rebel and I'm a reflection of America."
Ricky Rebel walked the red carpet in a blue jacket emblazoned with the words "Keep America Great" and "Trump 2020" over a white blouse, pants, and high-heeled knee-high boots.
The rock artist has long been an active supporter of President Trump and faced the backlash over it.
Rebel has love of all-things. Rebel, who is bisexual, has been an advocate for LGBT rights. That doesn't stop him from being a proud American who knows who is making America great.
He tweeted, as well:
I'm Billboard Top 40 recording artist Ricky Rebel live at the #grammys and I'm a reflection of the 60 million+ Americans that voted for @realdonaldtrump. Be #TheNewAlpha Don't let anyone keep you in the closet. #kagjacket by @officialandresoriano #MAGA #KAG pic.twitter.com/pIZd3dxMMx

— Ricky Rebel (@RickyRebelRocks) February 10, 2019
Subscribe to Our Newsletter