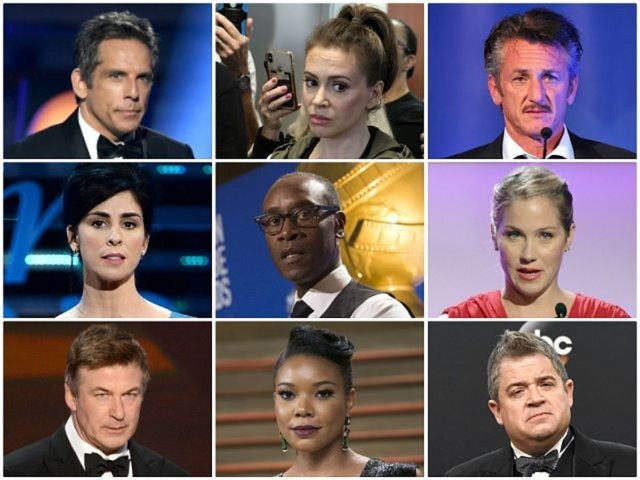 The Georgia House has voted yes on the "heartbeat bill."
The measure would outlaw abortion as soon as a doctor can detect a heartbeat in a fetus, limiting the window of time to 6 weeks after gestation.
The bill passed the Georgia Senate on March 22 and has returned to the House for review of changes. The House voted 92 to 78 to approve the bill, which now heads to Gov. Brian Kemp's desk to be signed into law. Lawmakers voted down a motion to reconsider action.
Left-wing celebrities Alyssa Milano, Alec Baldwin, Amy Schumer, and more than 40 other Hollywood luminaries signed a letter threatening to push TV and film production out of Georgia if the state's contentious "heartbeat" abortion bill becomes law, the Atlanta Journal-Constitution reported.
The open letter was addressed to Georgia Republican Gov. Brian Kemp and Republican Speaker of the state House of Representatives David Ralston, the paper said.
Other celebrity signees included Rosie O'Donnell, Sarah Silverman, Sean Penn, Patton Oswalt, Gabrielle Union, Don Cheadle, Mia Farrow, Essence Atkins, Uzo Aduba, Christina Applegate, Ben Stiller, Colin Hanks, Bradley Whitford, and Amber Tamblyn, the Journal-Constitution said.
After the bill passed the state Senate last Friday, Milano tweeted to "Hollywood" that "we should stop feeding GA economy." Milano — who spearheaded the letter — is in Atlanta shooting the Netflix comedy "Insatiable," the paper added.
The actress trumpeted the letter on Thursday:
To @BrianKempGA & Speaker Ralston:
Attached, is an open letter signed by 50 actors against #HB481. On behalf of the undersigned–as people often called to work in GA or those of us contractually bound to work in GA–we hope you'll reconsider signing this bill. #HBIsBadForBusiness pic.twitter.com/DsOmAWYU2x

— Alyssa Milano (@Alyssa_Milano) March 28, 2019
Even if celebrities didn't like the law, Gov. Brian Kemp has said he supports the measure and would sign it if it reaches his desk.
He issued the following statement right after the vote was passed:
"Georgia values life. We stand up for the innocent and speak for those who cannot speak for themselves. The legislature's bold action reaffirms our priorities and who we are as a state. I thank these lawmakers for their leadership and applaud their undeniable courage.
"Our efforts to protect life do not end here. We must work to ease the adoption process, find loving homes for those in our foster care system, and protect the aging and vulnerable. Together, we will ensure that all Georgians are safe and have the opportunity to live, grow, learn, and prosper."
Do you approve this law?
Scroll down to leave a comment below.
---
Social media censorship is suppressing the truth about the dangers of globalism and brutal cultures infiltrating the west. Please share this article wherever you can. It is the only way we can work around their censorship and ensure people receive news about issues that Democrats and the mainstream media suppress.
Scroll down to leave a comment below.
Subscribe to Our Newsletter