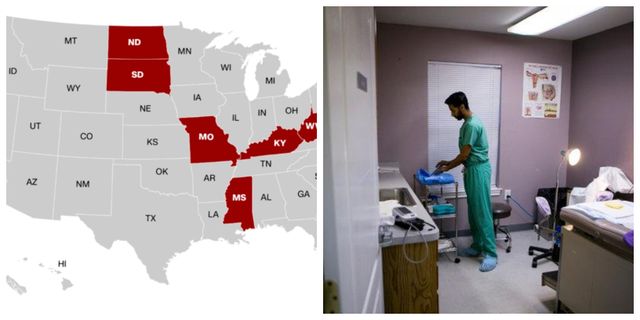 Six states are now down to one abortion clinic — Kentucky, Mississippi, Missouri, North Dakota, South Dakota and West Virginia, according to the Guttmacher Institute, which advocates for reproductive rights.
One state went even one step further and decided to remove abortion clinics across the country!
Missouri's last abortion clinic expects to shut down later this week, ending legal abortion in the Show-Me State.
Planned Parenthood failed to renew its license issued by the state's health department for the last remaining abortion clinic in St. Louis and if it isn't compliant by May 31, Missouri will become the first state without a functioning abortion clinic since Roe v. Wade was decided in 1973, CBS News reported.
Planned Parenthood officials say they are filing a lawsuit in state court Tuesday, asking for a restraining order to prevent its St. Louis clinic from being forced to stop offering the procedure after a state license expires Friday.
I love the Pro-Life wave that seems to be gaining major momentum around the country.
In most other states, the number of abortion clinics keeps dropping.
In 1996, the country had 452 abortion clinics, according to Guttmacher.
In 2005, that number had dwindled to 381.
And by 2014, the latest year of available data, the number was down to 272.
Praying for more states to follow. Life is precious. Wonderful, so wonderful for the state of Missouri to take this brave stand against Abortion.
---
Social media censorship is suppressing the truth about the dangers of globalism and brutal cultures infiltrating the west. Please share this article wherever you can. It is the only way we can work around their censorship and ensure people receive news about issues that Democrats and the mainstream media suppress.
Scroll down to leave a comment below.
Subscribe to Our Newsletter