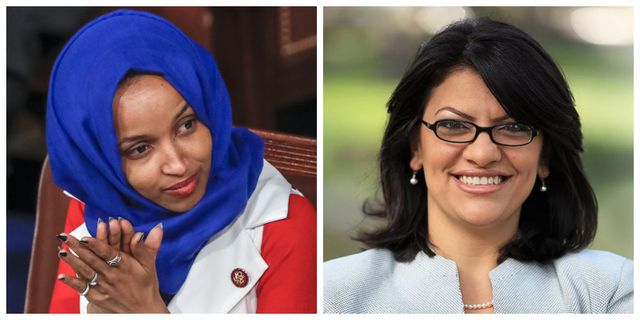 Israel will not permit two controversial Democratic lawmakers to enter the country, Channel 12 reported Thursday afternoon.
According to the report, Interior Minister Aryeh Deri (Shas) decided Thursday to bar Minnesota Congresswoman Ilhan Omar and Michigan Congresswoman Rashida Tlaib from entering Israel.
While the Interior Ministry has not confirmed the report, Channel 12 said the decision would soon be publicized, after the entry ban itself is formally drawn up – Israel National News Reported.
Omar (D-Minn.) and Tlaib (D-Mich.) planned to tour the flashpoint site of the Temple Mount in the Old City of Jerusalem, as well as the West Bank, according to Channel 13.
Their trip was planned by Miftah, a nonprofit organization led by Palestinian lawmaker and veteran peace negotiator Hanan Ashrawi, according to the Washington Post.
Netanyahu met Wednesday with Deri, Foreign Minister Israel Katz, Public Security Minister Gilad Erdan, National Security Council head Meir Ben-Shabbat and Attorney General Avichai Mandelblit to discuss the matter, the paper reported.
Independent also confirmed this news
This comes just four days after reports indicated that Donald Trump told advisers he believed Israel should enforce its 2017 law that allows individuals to be denied entry into the country if they have supported boycotting Israel. The White House has denied Mr Trump expressed such an opinion, with press secretary Stephanie Grisham telling Axios earlier in the week: "The Israeli government can do what they want. It's fake news."
This is a developing story more follows…
---
Social media censorship is suppressing the truth about the dangers of globalism and brutal cultures infiltrating the west. Please share this article wherever you can. It is the only way we can work around their censorship and ensure people receive news about issues that Democrats and the mainstream media suppress.
Scroll down to leave a comment below.
Subscribe to Our Newsletter