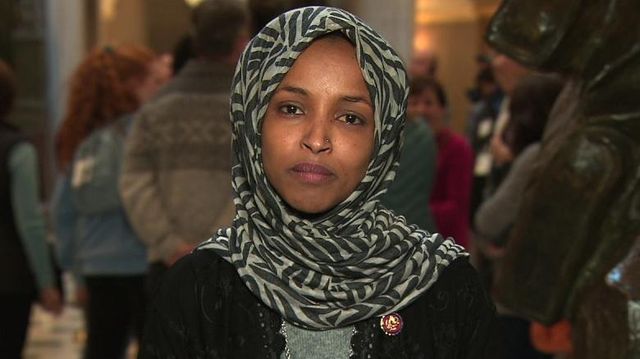 Democratic Rep. Ilhan Omar has been holding a series of closed door fundraisers with groups that have been identified by the US government and governments abroad as having ties to supporting terrorism.
The subject of the speeches Omar has been delivering is unknown and the audience at these events are predominately Muslim. This behavior has caused many concerns since she has been outspoken against Israel and generalizing Jewish people with anti-Semitic stereotypes.
Why is this being done it secret? What is she promising these people? Is Omar now using her privilege to hide her true intentions?
The Washington Free Beacon reports:
Omar recently spoke in Florida at a private event hosted by Islamic Relief, a charity organization long said to have deep ties to groups that advocate terrorism against Israel. Over the weekend, she will appear at another private event in California that is hosted by CAIR-CA PAC, a political action committee affiliated with the Council on American Islamic Relations, or CAIR a group that was named as an unindicted co-conspirator in a massive terror-funding incident.
Islamic Relief has come under congressional investigation for what lawmakers have described as its efforts to provide assistance to terrorist group such as Hamas and the Muslim Brotherhood. The charity has been banned by some countries as a result of these ties.
In 2017, Congress sought to ban taxpayer funds from reaching the charity due to these terror links.
"The event was closed to the media. No materials are available," the official said.
On Sunday, Omar will hold another meet and greet in Irvine, Calif., for CAIR-CA PAC. Those wishing to hear Omar speak are being asked to donate anywhere from $50 to $250 dollars, according to a flyer for the event.
The CAIR event also appears closed to the press. Free Beacon attempts to contact the organizer and obtain access were unsuccessful. Requests for comment on the nature of the speeches sent to Omar's congressional office also were not returned.
CAIR, a Muslim advocacy group known for its anti-Israel positions, was named by the U.S. government as part of a large network of groups known to be supporting Hamas.
CAIR has been cited by the Anti-Defamation League, or ADL, for using its network of supporters to promote an "anti-Israel agenda."
"CAIR's anti-Israel agenda dates back to its founding by leaders of the Islamic Association for Palestine (IAP), a Hamas affiliated anti-Semitic propaganda organization," according to the ADL. "While CAIR has denounced specific acts of terrorism in the U.S. and abroad, for many years it refused to unequivocally condemn Palestinian terror organizations and Hezbollah by name, which the U.S. and international community have condemned and isolated."
According to the Washington Examiner, Omar frequents fundraisers where she speaks alongside people like CAIR-LA's executive director, Hussam Ayloush, who is a divisive figure with a history of anti-Semitic statements.
Another speakers at an event Omar has attended Imam Siraj Wahhaj, who has a long record of promotion of Islamic law, violent jihad, and calls to anti-gay violence.
Omar has appeared alongside Linda Sarsour, who has described Wahhaj as her "favorite person" and "mentor, motivator and encourager."
At the Islamic Relief event, Omar was initially scheduled to speak alongside Yousef Abdallah, an Islamic Relief employee who has made numerous anti-Semitic statements on social media, including accusing former New Jersey governor Chris Christie of kneeling before "jewish [sic] lords". After the statements were revealed in various online publications and condemned by activists, spokesmen claimed ridiculously that Abdallah's inclusion in the program had been an "accident." Yet, Abdallah remains an employee of Islamic Relief.
Ilhan Omar is not naive, as Nancy Pelosi would have us believe. She is actively on the road raising money for extreme Islamic organizations, or for herself—and doing it in secret.
---
Social media censorship is suppressing the truth about the dangers of globalism and brutal cultures infiltrating the west. Please share this article wherever you can. It is the only way we can work around their censorship and ensure people receive news about issues that Democrats and the mainstream media suppress.
Scroll down to leave a comment below.
Subscribe to Our Newsletter