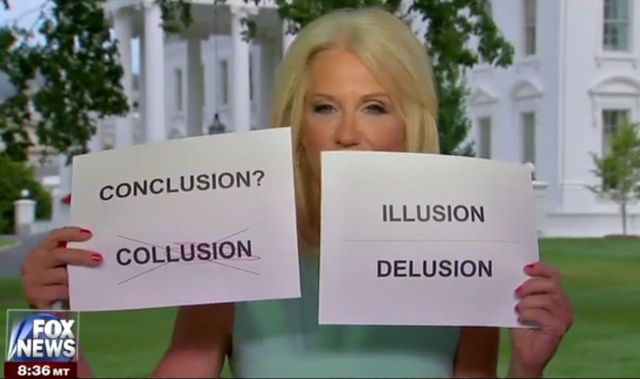 Kellyanne Conway appeared with Sean Hannity on Wednesday night to talk about collusion conspiracies and held up paper signs as props to explain the Russian-Trump collusion conspiracy.
Sadly, no matter how many props Kellyanne Conway uses, Trump derangement syndrome and liberal Russia paranoia appear to have no known cure.
Via Mediaite:
On Wednesday night, Kellyanne Conway chatted with Sean Hannity to discuss last night's interview with Donald Trump Jr. along with the alleged collusion between the Clinton campaign and Ukraine, their ties to Russia, and the "Destroy Trump Media."
The White House counselor told the Fox News host that most of this goes back to the 2016 election results and that people are trying to "bleach-bit it and make it go away," but called the Trump Jr. interview "refreshing" because he was "taking responsibility" and being "transparent."
"The bottom line is what came out of this 20-minute brief meeting?" she asked. "Nothing helpful, nothing meaningful, nothing consequential. If that were true, there would have been immediate followup. No followup whatsoever."
She then addressed the argument that Trump critics in the media say whenever the actions the Clinton campaign are discussed.
"The biggest response I've heard from the media about that is, 'Oh but a different person won. You won, she lost.'" Conway continued. "That does not erase the fact that people may have broken the law and that they colluded with foreign governments to try and damage people in the Trump campaign, which by extension would damage Mr. Trump at the time."
Conway then slammed the media for "talking about Russia more than America" and summarized her thoughts using some visual aids in order to "help all the people at home."
She held up a paper that read "Conclusion?" on top and "Collusion" crossed off at the bottom.
"What's the conclusion?" she asked. "Collusion? No. We don't have that yet."
She then held up another paper that read "Illusion" at the top and "Delusion" at the bottom.
"I see illusion and delusion!" she exclaimed. "Collusion? No. Illusion and delusion? Yes."
[…]
Watch the video:
Scroll down to leave a comment below.
---
Social media censorship is suppressing the truth about the dangers of globalism and brutal cultures infiltrating the west. Please share this article wherever you can. It is the only way we can work around their censorship and ensure people receive news about issues that Democrats and the mainstream media suppress.
Scroll down to leave a comment below.
Subscribe to Our Newsletter