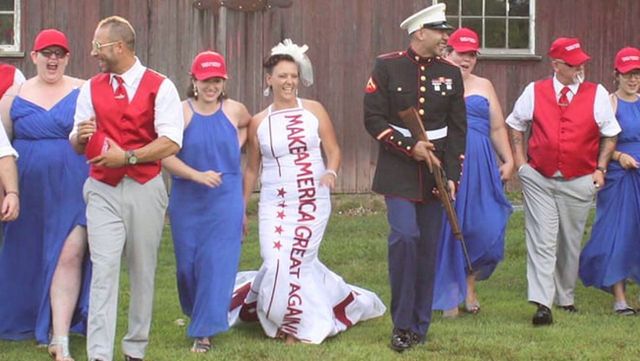 A Michigan couple Audra and Jeff Johnson says in addition to celebrating their love, they decided to use their wedding day as an opportunity to celebrate President Donald Trump.
"It looked like America threw up all over my wedding and I'm not sorry," bride Audra Johnson told WXMI.
"The dress is actually an Andre Soriano original," Johnson said. "It's actually made out of a MAGA flag."As is the focal point of every wedding, the bride's dress stole the show.
"We were gonna do our photos with the Trump hats and she said, 'You know I love you, but I can't wear the Trump hat,'" Johnson said. "I said, 'It's OK. It's OK. Just wear a red hat. We still love you. We can have completely different opinions about everything and still love each other."
Not everyone in the couple's life was as accepting. The groom's father refused to attend.
"He sent us a text message," Johnson said. "It said, 'As long as you support that racist in the White House, I won't be attending your wedding.' Which is sad but we did have a lot of people that loved us and showed up."
In any case interesting theme don't you think?
---
Social media censorship is suppressing the truth about the dangers of globalism and brutal cultures infiltrating the west. Please share this article wherever you can. It is the only way we can work around their censorship and ensure people receive news about issues that Democrats and the mainstream media suppress.
Scroll down to leave a comment below.
Subscribe to Our Newsletter