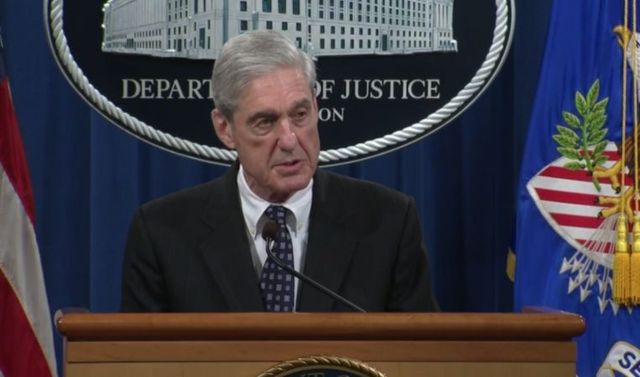 As our writer Daveda Gruber reported on Wednesday morning Special Counsel Robert Mueller delivered his first public statement since he finished his probe on Russian interference during the 2016 presidential election.
The report was handed over to William Barr on March 22.
The White House was advised on Tuesday night of Mueller's plans to speak to the American people. .
The speech didn't tell much to those of us who have read the Mueller report. Mueller only said what was already in his report that he had given to Barr. Mueller said that his report was his final testimony.
During his statement, Mueller said he based his decision on the fact that via the Office of Legal Counsel" a President cannot be charged with a federal crime while he is in office. That is unconstitutional."
Robert Mueller: "Under long-standing Department policy, a President cannot be charged with a federal crime while he is in office. That is unconstitutional. Even if the charge is kept under seal and hidden from public view, that too is prohibited." #Mueller https://t.co/m1zbvZ2Yuy pic.twitter.com/wppsBL9Aym

— The Hill (@thehill) May 29, 2019
But this was a lie.
Author and legal expert Gregg Jarrett later revealed that this is the exact opposite of what Mueller told Attorney General Bill Barr back in March.
According to reports Mueller told the Attorney General that the Office of Legal Counsel (OLC) opinion played no role in the special counsel's decision-making or lack thereof.
Via FOX News:
n his final act before resigning his position, Mueller told the gathered media on Wednesday that his non-decision decision on whether the president obstructed justice was "informed" by a long-standing opinion by the Office of Legal Counsel (OLC) at the Justice Department that a sitting president cannot be charged with a crime. But according to William Barr, that's not what Mueller told the attorney general and others during a meeting on March 5, 2017. Here's what Barr told Senators during his May 1st testimony:
"We were frankly surprised that they were not going to reach a decision on obstruction and we asked them a lot about the reasoning behind this. Mueller stated three times to us in that meeting, in response to our questioning, that he emphatically was not saying that but for the OLC opinion he would have found obstruction."
Barr said there were others in the meeting who heard Mueller say the same thing – that the OLC opinion played no role in the special counsel's decision-making or lack thereof. The attorney general repeated this in his news conference the day Mueller's report was released to the public:
"We specifically asked him about the OLC opinion and whether or not he was taking a position that he would have found a crime but for the existence of the OLC opinion. And he made it very clear several times that was not his position."
Yet, on Wednesday Mueller was telling a different tale. He seemed to argue that he could not have accused the president of obstruction because he was handcuffed by the OLC opinion. Why, then, did Mueller allegedly inform Barr that a special counsel can abandon the opinion if the facts merit it?
Joint Special Counsel / DOJ statement on the role of the OLC opinion. pic.twitter.com/nPRihv2Lgq

— Ryan J. Reilly (@ryanjreilly) May 29, 2019
More from Daveda Gruber:
Mueller said he will not be testifying to Congress but Congress could issue a subpoena for him to testify. Would he comply with a subpoena? He did say that his speaking today would be the last time we would hear from him. Do I expect a subpoena? Yes, I do.
Following Mueller's address, Trump tweeted this out this:
Nothing changes from the Mueller Report. There was insufficient evidence and therefore, in our Country, a person is innocent. The case is closed! Thank you.

— Donald J. Trump (@realDonaldTrump) May 29, 2019

The Democrats will take this verbiage and dwell on the words that you cannot indict a sitting president. This will be misconstrued and reported as that there was a crime but it could not be proven.
---
Social media censorship is suppressing the truth about the dangers of globalism and brutal cultures infiltrating the west. Please share this article wherever you can. It is the only way we can work around their censorship and ensure people receive news about issues that Democrats and the mainstream media suppress.
Scroll down to leave a comment below.
Subscribe to Our Newsletter