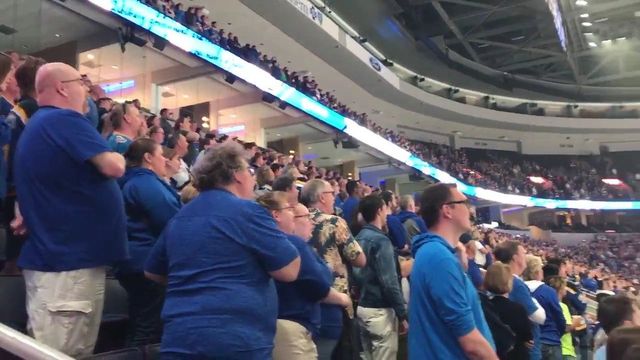 The video I witnessed last night was one of the most patriotic videos I have seen in the last few years when it comes to our sports events!
Given the fact that many sports athletes NFL are acting like anti-American propaganda, machine Hockey seems to be my last chance of watching decent sport!
St. Louis, Blues hockey fans helped finish the National Anthem when the speaker system failed. The Blues invited fans to see the second game of the Stanley Cup Finals which was held in Boston and shared on the Enterprise Center's video system.
The fans were not disappointed as the Blues won their first Stanley Cup Finals game in their more than 50-year history.
Watch the patriotic video below:
When the game feed froze back in St. Louis at the watch party, #stlblues fans filled in to finish the national anthem. pic.twitter.com/v52Z9DLXLl

— St. Louis Blues (@StLouisBlues) May 30, 2019
I reported this story because we would never see the REAL America. The big media has poisoned so many with their constant hate-filled junk, with lies, with garbage.
Here, and many other sites, we see how Americans love their country, care for each other in times of great need, and are not "deplorable".
---
Social media censorship is suppressing the truth about the dangers of globalism and brutal cultures infiltrating the west. Please share this article wherever you can. It is the only way we can work around their censorship and ensure people receive news about issues that Democrats and the mainstream media suppress.
Scroll down to leave a comment below.
Subscribe to Our Newsletter