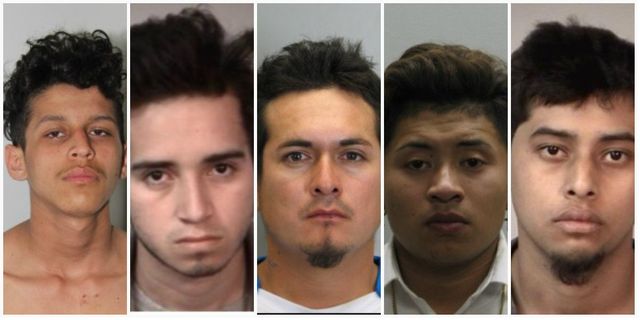 Another victim of MS-13 gang and this time is a 16-year-old boy who was brave enough to defy them!
Fox 31 reported:
The body of 16-year-old Jacson Chicas was discovered near a wooded area in Rappahannock River, east of the Fredericksburg city limit around 4:30 a.m. Saturday.
Investigators now believe the gang turned on Chicas, a fellow member, stabbing him about 100 times and setting his body on fire, Prince George's County Maj. Brian Reilly said at a press conference Friday.
On Thursday, investigators determined that Chicas was killed inside of a home in Prince George's County, Maryland, during a gang meeting at the home of the clique's leader on March 8.
At that meeting, for reasons which are under investigation, there was a confrontation, and the 16-year-old was attacked and killed.
The five suspects, Jose Ordonez-Zometa, 29; Jonathan Castillo-Rivera, 20; Kevin Rodriguez-Flores, 18; Christian Martinez-Ramirez, 16; and Jose Hernandez-Garcia, 25, have been charged as adults. They face charges of first-degree murder and other related charges.
These people aren't Dreamers, these people are Nightmares.
The mother of the victim said that they killed him because he was trying to leave the gang and they killed him as an act of revenge!
She also told NBC 4 Washington that her son was forced to join MS-13, an El Salvadoran gang before they fled El Salvador.
The gang members reportedly threatened to kill the 16-year-old's family and he told them to kill him instead.
The really sad thing that is being missed here is the boy's act of bravery to give his life for his families. I have to give grace to that young man for willingly walking unto his death. I bow my head in silent prayer.
You would think incidents like this would resonate with those on the left. This brutal murder is not an isolated case, there have many reports like this over the last several months. It doesn't though. They seem to block it out, ignore the reality of this barbarity and continue to try and force open borders. It is blind ignorance on a scale that cannot be defined.
---
Social media censorship is suppressing the truth about the dangers of globalism and brutal cultures infiltrating the west. Please share this article wherever you can. It is the only way we can work around their censorship and ensure people receive news about issues that Democrats and the mainstream media suppress.
Scroll down to leave a comment below.
Subscribe to Our Newsletter