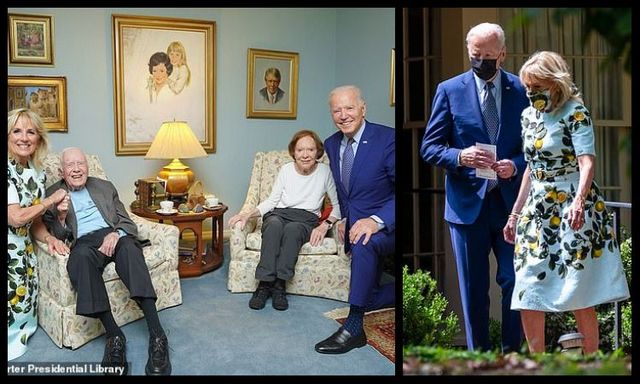 President Biden and first lady Jill Biden visited former President Jimmy Carter and former first lady Rosalynn Carter at their home in Plains, Georgia, on Thursday, Biden's 100th day in office. The Jimmy Carter Presidential Library released a photo of the visit, and presidential historian Michael Bechloss posted it on social media Monday night.
The photo saw both Bidens appearing to loom large over the Carters who were pictured on sitting on two living room chairs.
All four were pictured without face masks – despite Joe Biden insisting that he wears a mask while outdoors even though he has been vaccinated against COVID-19.
Photo below: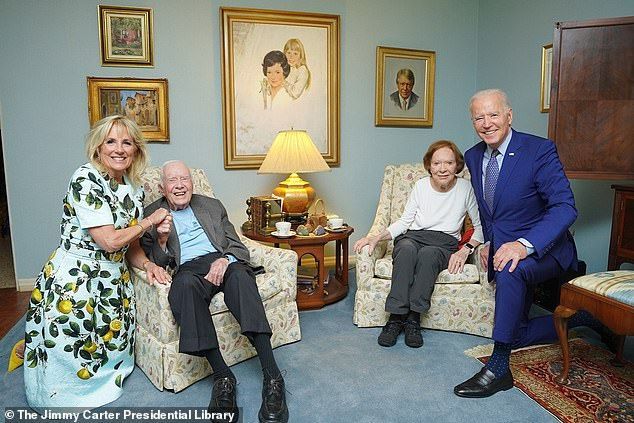 What is really strange is the fact that when Jill and Joe are out in the open and are walking alone are always wearing masks, even though CDC recommended avoiding using mask outdoors. While in this case, they are practically sitting on the laps of people in their 90's and indoor without masks.
This photo was released this morning while Biden admin posted different photos from the Bidens while they leave Jimmy Carter's house, and wearing masks.
Photos below: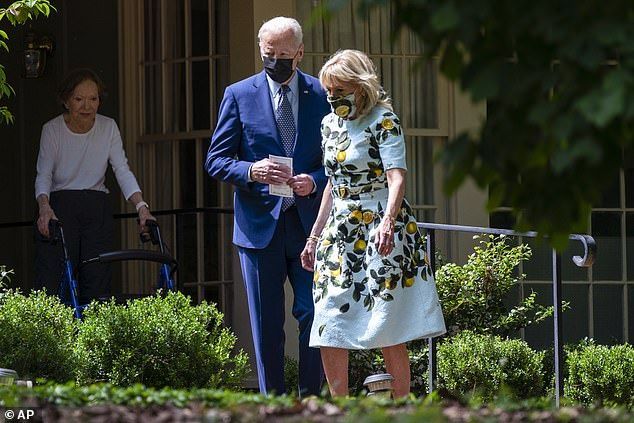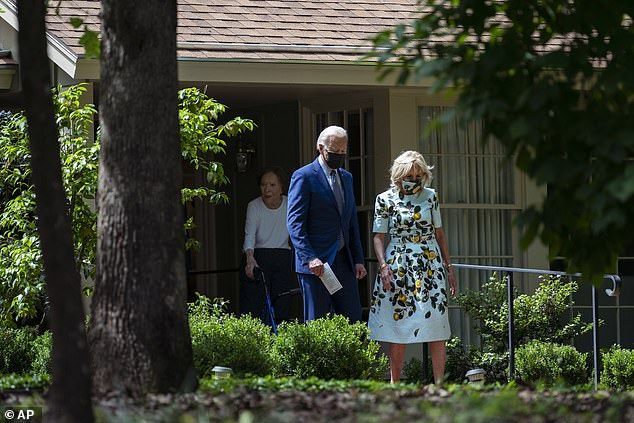 Biden later told reporters how he enjoyed the meeting.
'It was great to see President Carter. And we sat and talked about the old days,' he said. 'His health has gotten better.'
Social media users also alleged that the picture contains a lot of photoshop.
This is an extremely odd-looking picture. I have great respect for all four, but the pic is just bizarre…,' wrote one user on Twitter.
'Can we discuss the perspective on this photo?' said screenwriter Jeffrey Lieber.
'I know people tend to shrink as they get older, but did not realize their furniture did as well,' joked another Twitter user.
'I was just thinking 'I love everyone in this photo, but wtf am I looking at?' Is it a tiny house? Are the Biden's giants? Are the Carter's smurfs?', asked Melinda Henrickson.
'These appear to be the smaller, back-up versions of the Carters,' wrote Kent Heier.
'I know the Carters are elderly, but they are not doll size, and their home probably isn't either,' surmised one online poster.
'I love this; but the Carter's look like miniature doll house people. Is it me??? But I love it,' tweeted another.
The question remains why Bide is wearing a mask outside while leaving his mask off while visiting people in their 90's.
Both couples are now vaccinated, and the Carters have even resumed worshipping in-person at their church, Maranatha Baptist Church.
One of Joe Biden's top White House advisers suggested Sunday that he's still wearing a mask outdoors out of habit although the latest public health guidance says he doesn't need it.
Questioned about Biden's practice, senior adviser Anita Dunn told CNN's "State of the Union" that she realized that she was also still wearing her mask outdoors even after the Centers for Disease Control and Prevention said fully vaccinated people like her and Biden can stop wearing masks outside when they're alone or not among strangers.
"I myself found that I was still wearing my mask outdoors this week, because it has become such a matter of habit," Dunn said. "I think the president takes the CDC guidelines very seriously. And he's always taken his role as sending a signal to follow the science very seriously, as well."
Biden wore a mask outdoors several times last week as he approached microphones to give speeches, including an appearance on the White House lawn last Tuesday to discuss the CDC's relaxed mask guidance.
Asked afterward about the message he was sending by wearing a mask outside as he stood alone, Biden replied: "By watching me take it off and not put it back on until I get inside."
The CDC recently said Americans fully vaccinated against COVID-19 don't need to cover their faces anymore unless they're in a large crowd of strangers.
---
Social media censorship is suppressing the truth about the dangers of globalism and brutal cultures infiltrating the west. Please share this article wherever you can. It is the only way we can work around their censorship and ensure people receive news about issues that Democrats and the mainstream media suppress.
Scroll down to leave a comment below.
Subscribe to Our Newsletter