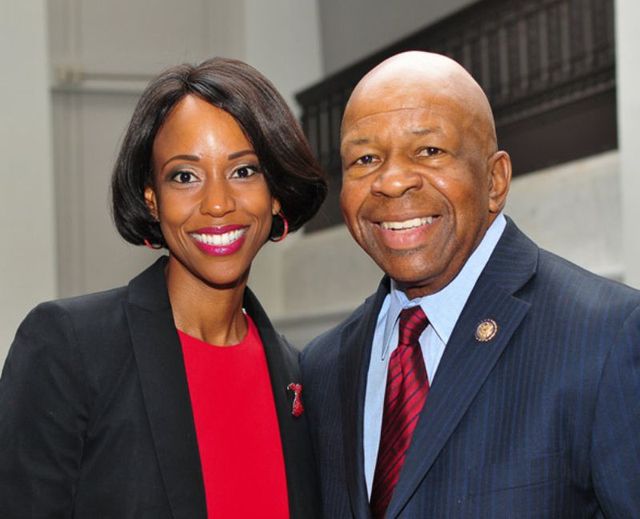 President is working to hold elected Democrats accountable for their own local problems and issues — urgent fixes are long overdue, but it seems when he tries to point what the Dems have done with their districts he is called a racist.
His attacks are justified because we are talking about a man who runs Baltimore for 20 years and the end results are devastating.
Even one recent report from the Washington Examiner exposed his wife and how she gained illegal private benefit.
A charity run by the wife of Rep. Elijah Cummings received millions from special interest groups and corporations that had business before her husband's committee and could have been used illegally, according to an IRS complaint filed by an ethics watchdog group.
His wife, Maya Rockeymoore runs two entities, a nonprofit group called the Center for Global Policy Solutions and a for-profit consulting firm called Global Policy Solutions, LLC, whose operations appear to have overlapped, according to the IRS complaint filed by watchdog group the National Legal and Policy Center on Monday. The complaint states that the arrangement may have been used to derive "illegal private benefit."
Global Policy Solutions received more than $6.2 million in grants between 2013 and 2016, according to tax records. Several of the nonprofit group's financial backers — which included Google, J.P Morgan, and Prudential — have business interests before the House Committee on Oversight and Government Reform. Cummings has served as Democratic chairman of the committee since January and previously served as ranking member.
The largest contributor to the nonprofit organization was the Robert Wood Johnson Foundation, a company that is regulated by Cummings' committee. The foundation, which gave a total of $5.5 million to Rockeymoore's consulting firm and $5.2 million to her nonprofit group, ceased supporting her groups in 2017.
The Robert Wood Johnson Foundation was established by Johnson & Johnson founder Robert Wood Johnson but is not officially affiliated with the pharmaceutical company. The foundation owns 13 million shares of Johnson & Johnson stock worth over $1.7 billion, making it one of the company's largest shareholders. Currently, five board members of the foundation are former senior executives at the pharmaceutical giant, including the foundation's Chairman of the Board of Trustees Roger Fine, who previously served as corporate vice president and as general counsel of Johnson & Johnson.
Cummings disclosed in his financial reports that his wife earns an unspecified salary from Global Policy Solutions LLC; he did not disclose that she receives a salary from her nonprofit organization, which was $152,000 in 2016, according to the group's tax records from that year.
You can read more on the Washington Examier...

Trump is right Cummings hasn't done a damn thing in the 20 years since to stop it. So tired of these politicians getting fat off the backs of the working people. Thank God Trump doesn't play their game. He's not always politically correct but he's exposing them left and right .
Elijah, it's been 20 years, what have you done for your district?? Someone from the House needs to ask him what he has done for his district over the last 20 years.
---
Social media censorship is suppressing the truth about the dangers of globalism and brutal cultures infiltrating the west. Please share this article wherever you can. It is the only way we can work around their censorship and ensure people receive news about issues that Democrats and the mainstream media suppress.
Scroll down to leave a comment below.
Subscribe to Our Newsletter