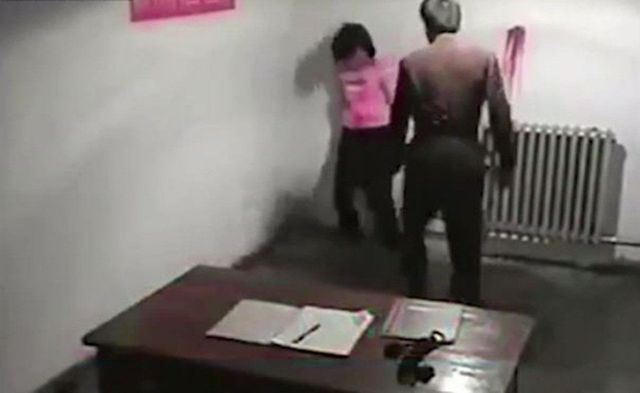 The clip shows one North Korean agent repeatedly asking a woman if she has had sex with Chinese men.
Her hands are bound behind her back as she is thrown around, kicked and slapped.
At one point, he grabs her by the hair before ramming her face into a wall where there is a red marking which appears to be blood.
Watch the video below!
The video was uploaded to the website in 2012, according to Metro.
It also shows another agent shoving a stick in between a man's legs and the chair he is sitting on. He is then slapped across the face and punched in the back of the head.
He was allegedly accused of ripping up a photo of Kim Jung-ll, the former leader of North Korea.
The video has surfaced in the wake of the death of US student Otto Warmbier.
Earlier this month, the 22-year-old was medically evacuated from North Korea after it emerged he had been in a coma since the start of his 15-year sentence for stealing a propaganda poster last year.
Warmbier's family and officials have pointed blame at the regime's treatment of him, but North Korea has denied any wrongdoing, calling themselves the 'biggest victim'.
A spokesperson said: 'The fact that Warmbier died suddenly in less than a week just after his return to the US in his normal state of health indicators is a mystery to us as well.
'To make it clear, we are the biggest victim of this incident and there would be no more foolish judgment than to think we do not know how to calculate gains and losses.'
Hateful people!!
I'm so so sorry for this young person and his family. I can not even imagine what he went thru!!
What do you think about this?
Scroll down to leave a comment below!
---
Social media censorship is suppressing the truth about the dangers of globalism and brutal cultures infiltrating the west. Please share this article wherever you can. It is the only way we can work around their censorship and ensure people receive news about issues that Democrats and the mainstream media suppress.
Scroll down to leave a comment below.
Subscribe to Our Newsletter